Bike ride honors fallen EMS personnel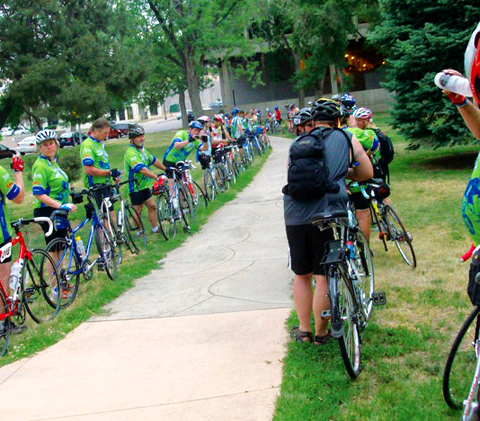 Cyclists use their bikes a to form a makeshift pathway for the families of the fallen EMS professionals to walk through during the National EMS Bike Ride. Several OCCC students and staff members participated in the event, held last month in Colorado, to raise money for the Fallen Angels Fund. (Photo provided by EMS students)
OCCC Student Emergency Medical Technology Association members and Emergency Medical Services department staff competed and participated in the National EMS Memorial Bike Ride last month in Colorado, said Emergency Medical Sciences Director Leaugeay Barnes.
She said the team included EMS majors Melissa Vice, Megan Pfieffer, Brett Colclasure, Seth Clark, and Bill Greyson.
Barnes said she and Shelly Troxel-Tevis, Affiliation Compliance administrator, accompanied the students.
Two student cyclists successfully completed the ride with an elevation increase of more than 4,000 feet and in 104-degree weather, she said.
Barnes said three SEMTA members did not ride but instead participated as Support and Gear/Guidance members.
They patrolled the bike route, she said, to pick up riders who needed assistance, such as first aid and transport to rest stops.
"We were very proud of how the students represented OCCC on a national level, and their professionalism and positive attitudes were commented on by many of the organizers and attendees," Barnes said.
Before the race, she said, the crew drove 12.5 hours from Oklahoma and met with EMS staff and students from Inver Hills Community College from Minnesota to discuss their plans for the event.
The group awoke at 4:30 a.m. the following day, Barnes said, to begin their 85-mile bike ride from Littleton, Colo. to Colorado Springs.
She said the journey took approximately seven hours with several mandatory rest stops along the way.
Small memorial services were held at the rest stops to honor the 26 EMS personnel who died doing their job during 2009 in efforts to save others, Barnes said.
SEMTA member Brett Colclasure said, "The ride was definitely a challenge, and at times I felt like I was in way over my head."
Fortunately, he ended up finishing, Colclasure said, thanks to encouragement from other riders and some excellent support that correlated with the EMS mindset.
"I think the ride was a lot like EMS in that regard: challenging, but rewarding, because you have adequate support from your peers," he said.
Upon completion of the ride, Barnes said, cyclists lined their bikes in a makeshift pathway for the families of the fallen to walk through.
A larger formal service was held the following evening, she said.
Pittsburgh Paramedic Pipes and Drum provided music, Barnes said, and the service involved four helicopters from various local air services.
She said this was the first event outside the state that SEMTA has been involved in since she came to OCCC five years ago.
"The students were very impressed with the service and are already making plans to participate next year," Barnes said.