An intense documentary adventure
"Dear Zachary: A Letter to a Son About His Father" is a documentary and an emotional rollercoaster.
I like to watch documentaries and this is one of the best documentaries I've seen.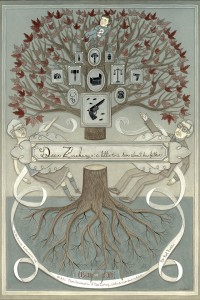 And even if you're not into documentaries, watch it! You won't regret it.
This cinematic scrapbook was created by Kurt Kuenne, after the cold-blooded killing of his close friend Dr. Andrew Bagby.
Andrew and Kuenne had been friends since the age of 7.
Andrew was the only child to David and Kathleen Bagby.
'Dear Zachary' chronicles Kuenne's travels across the country to meet the important people in Andrew's life who knew him best. From college friends, coworkers, to distant cousins, they all had nice things to say about Andrew.
"Charismatic," "a great story teller," and "full of life," were were some of the descreiptions provided by his loved ones. Andrew had a lot of people that loved him.
One of Kuenne's goals was to capture Andrew's personality. He accomplished it perfectly. I was not expecting to cry at all. I'm not a crier but I had tears running down my face at this point. It was just so sad but I couldn't turn it off.
David and Kathleen, Andrew's parents, and everyone that knew Andrew were sure Shirley Turner, ex-girlfriend of Andrew, had killed him after he broke up with her. There was plenty of evidence against Shirley but she fled to Canada before she could be arrested.
Some time later David and Kathleen find out that Shirley is carrying Andrew's baby but of course, to find out if the baby is Andrew's, they would have to wait until he's born.
David and Kathleen moved to Newfoundland, trying to win custody of the only grandchild they would ever have.
Shirley named the baby, Zachary. Hence the title "Dear Zachary."
Kuenne knew he would give Zachary the video someday once it was finished.
While they waited for the legal process to run its course, the new grandparents had to be civil with the mother of their grandbaby, who they believe to be the murderer of their son.
The story continues but I do not want to ruin it because you have to watch it for yourself.
Yes, the story is sad but at the end I was in awe of the distance friends and family will go for a loved one.