The Book of Five Rings by Miyamoto Musashi
Summary:
His methods are fundamental and down to earth, but transcendent.
Not being able to rest until my numerous enemies are defeated, I've been looking for a copy of Miyamoto Musashi's "The Book of Five Rings" for a while. I was thrilled to have finally found one in the famous Powell's bookstore in Portland, Oregon.
"The Book of Five Rings" is divided into a forward by the author – translating for the long dead Musashi, then a forward from Musashi, and then five books. I have only made it through the first, the book of earth.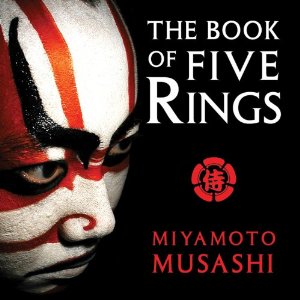 Musashi, in his words, starts with earth so everything else will have a strong foundation to stand on.
He talks directly to the reader, assuming the reader is reading for the right reasons, frequently talking trash on people reading his book for business advice.
His methods are fundamental and down to earth to the point of being transcendental in a world of overcomplicated belief systems and fighting styles.
Grasping Musashi's style takes a peculiar mix of intuition, interpretation, and being literal as Musashi is refreshingly frank.
He's a man who won 60 duels with mostly a wooden bokken, opened his own school, and retired to the wilds to write his book.
Musashi does not mince words and was surely a harsh man.
I feel sympathy in his words, for those who struggle in their pursuit of the way. The way of the warrior that is.
He is very particular about his way, but his style and philosophy are filled with adaptability. He stresses discipline in training, but also in ethics; to have a strong base to build on. Thus, I have only read the book of earth, and will feel comfortable moving on to the next four when I feel more grounded.