All Three Points: Three Takeaways From Energy FC's Road Trip to Tacoma
By Ryan Chapman, Senior Writer
Oklahoma City Energy FC found themselves back in the win column, defeating Tacoma Defiance 2-0 this past Saturday.
Let's take a look at three takeaways from the Energy's performance.
Lineup Changes Reap Rewards
Energy Coach Steve Cooke started the midfield trio of Rafael Garcia, Callum Ross and Je-Vaughn Watson against Tacoma.
Electing to go with three out and out midfielders as opposed to the more attacking options of Cordell Cato or Alexy Bosetti in the midfield provided the team much more balance in transition.
As a result, goalkeeper Cody Laurendi was only needed to record one save to keep a clean sheet.
The Energy didn't need to win the possession battle either, as they limited Tacoma's offense to long shots and deflections which led to no real danger in front of goal.
Attitude Shift Pushes OKC Forward
Too many times this season, the Energy have scored, and then their intensity has dropped off, leading to dropping points.
During their recent loss against Reno, Cooke asked his team to continue to press high up the field and keep the pressure up when the team led by two goals at the half. Despite the loss, Cooke hoped to see a mental shift in his team by staying on the attack for a full 90 minutes.
This shift in mentality was on display against Tacoma.
Defender Kyle Hyland gave Oklahoma City the lead in the 77th minute with a fantastic strike. Normally, this would have corresponded with Oklahoma City retreating deeper into their own half, trying to finish out the game with the three points.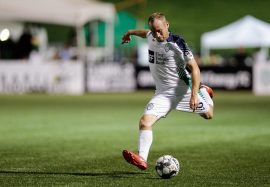 Instead, the Energy continued to press Tacoma deep into their half. Oklahoma City was rewarded with a second goal to close the door on a potential Tacoma comeback 10 minutes later as captain Atiba Harris headed a free kick home.
Oklahoma City has shown a lack of killer instinct in front of goal at times this season. Perhaps the shift in late game mentality is what the team needs to spur them toward the playoffs.
Win Comes at a Good Time
Winning is never bad, and can never come at a bad time.
But this win was important. And the timing is why.
Up next for Oklahoma City are their bitter rivals, the Tulsa Roughnecks.
Tulsa, losers of four of their last five, will surely be up to the task early in their trip to Oklahoma City.
The Energy needed to end their losing streak at two with a chance to move up the table on the horizon. Tulsa sits in 17th place out of 18 teams in the Western Conference.
A win will set the Energy up for a huge home match against third place Fresno FC on August 10th, and Oklahoma City would much rather enter the game riding a two game winning streak and flowing with confidence.