Energy FC Look To End Skid
By Ryan Chapman, Senior Writer
Just 13 games in the regular season remain for Energy FC.
Thirteen games to end the recent bad run of form, and get back to playing winning soccer.
After taking just four points from the last five games, Oklahoma City now sits in a tie for the tenth and final playoff spot in the Western Conference.
Even worse, most of the pain of the last month has been self inflicted.
"We've made mistakes that have cost us dearly," Head Coach Steve Cooke said.
"We missed some good opportunities in the attacking areas to score goals and put teams away, and in our defensive end, around our penalty area, we haven't been good enough."
Oklahoma City has a prime opportunity to get back to winning ways Saturday night.
The Energy travel to face last place Tacoma Defiance, winners of just one game in their last fifteen.
Though the fixture with Tacoma may look easy on paper, the Energy take nothing for granted on the heels of their poor run of form.
"We're taking everything one step at a time, and we're not looking past Tacoma," midfielder Rafael Garcia said. "We need to take care of the little things more than anything."
Cooke upped the intensity at practice this week after his team lost both of their matches last week.
"It's good to get a kick in the behind a little bit and bring it back to the basics," Goalkeeper Cody Laurendi said.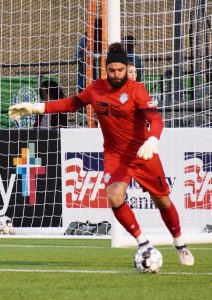 "I don't think we can sit back and rest, obviously, and I think it's a good tone that [Cooke] is setting for us heading to Tacoma."
Through the tough parts of the season, Laurendi believes the team has the right mentality to respond to adversity.
"It's about self-belief and confidence. Obviously, confidence comes and goes, but this group, its' collective self-belief is there and I don't think it has ever wavered."
With in-state rivals Tulsa on the horizon, Oklahoma City will want to buck the run of bad performances and begin to play their best soccer heading into a heated battle for playoff positions down the stretch.
"Let's be honest, if we go out there and perform to the best of our ability, we'll take care of the result," Cooke said.
"We know if we go there and get the job done, then things look different," Garcia said. "We just need to win."
The Energy kickoff at 9 p.m. Saturday night in Tacoma. The game will stream live on ESPN+.