Alabama Wins 2018 NCAA National Championship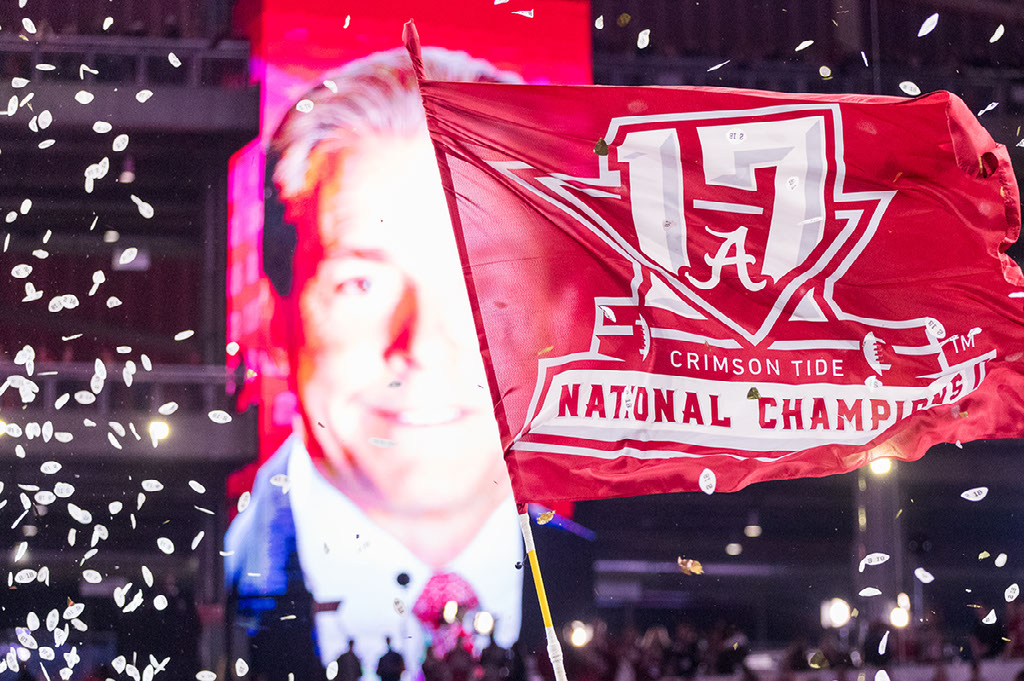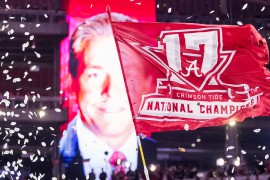 The game was tied 20-20 at the end of regulation. Georgia's Rodrigo Blankenship kicked a 51-yard field goal giving them the three point lead. Then Alabama's DeVonta Smith caught a 41-yard touchdown pass to win the championship in overtime.
The last Alabama-Georgia rivalry game was back in 2015, when Alabama dominated 38-10.
Alabama's  head coach, Nick Saban, praised the resiliency the team showed after "not playing very well" in the first half. "We needed a spark on offense and defense stepped up when they had to," he said. "I'm so proud of our players and the way they came back in the game."
In the third quarter, Saban replaced starting quarterback Jalen Hurts with true freshman QB Tua Tagovailoa, after having no points scored at all in the first half. Georgia was leading 13-0. Saban said the game came down to throwing the ball, and that Tagovailoa could make winning plays.
"We've had this in our mind that if we were struggling offensively, we would give Tua an opportunity. I thought Tua would give us a better chance and a spark. And he certainly did," he said.
Tagovailoa said it was a team effort, and that his poise to perform the way he did comes from his faith. "I'd like to thank my Lord and Savior, Jesus Christ. With him all things are possible, and that's what happened tonight," he said. "All glory goes to God."
At the post-game press conference, Tagovailoa wore a lei, representing his home state of Hawaii. "Making our state proud is the biggest thing, and to be able to do this on a national level and a big stage is a great opportunity," he said. "It's just great exposure for our people, and I just thank God that I'm here."
This makes Saban's fifth national title with Alabama. His first one was with Louisiana State University in 2003.
"This was a great win for our players and I've never been more happier in my life." Saban said.
Sports media personality, Colin Cowherd, who has his own television show on Fox Sports 1, and radio show on iHeartRadio, said the win was an example of world-class coaching.
Cowherd explained eight things that went wrong for Alabama including Georgia having the home-field advantage in Atlanta, UA missing two field goals, and a UA player collapsing on the sideline.
Cowherd added that the quarterback switch was what really changed the game for Alabama. Georgia was prepared for Hurts' way of playing, not Tagovailoa's.
"A great coach can adjust when things go sideways. Nick Saban last night, put on a clinic of how to adjust," Cowherd said. "Great coaches win when everything goes wrong."
Georgia head coach Kirby Smart was emotional following the championship loss. "In overtime we didn't finish when we had to and Alabama did," he said. "But I think everyone can see that Georgia's going to be a force to be reckoned with. I'm very proud of this team and this university. We're not going anywhere."
In an upsetting loss to Georgia at the Rose Bowl, University of Oklahoma's football coach Lincoln Riley said they "weren't perfect" and had an opportunity to win the game.
Oklahoma had a comfortable 31-17 lead at halftime. However, Georgia came back and tied the game 31-31 at the end of the third quarter. "We weren't able to maintain it overall as a team," Riley said. "There was a ton of good plays on both sides of the ball. And they made one more than we did."
The game went into double overtime, with Georgia scoring a touchdown and leaving the final score 54-48.
"It's been a great, great season, and I think we'll set the stage for even bigger things here in the next few years," Riley said. "I'm proud as hell to be their coach."