Working at the State Fair: A Pleasure, not a Profession
The 2017 Oklahoma State Fair opened its 110th year this month. For eleven days people of all ages — from elderly to toddlers — seemed to enjoy the food, attractions, animals, rides and fun.
Though thousands of people visit the fair each year, it takes more than a village to manage the event. People come in, are given what they paid for, then they leave.  No one thinks about where the person who served them ice cream came from or where they are headed to next.
And no one really thinks about what it's actually like to work at the Oklahoma State Fair.
Nathan Graham, a caricaturist who currently works at Disney World in Orlando, has been drawing for over 28 years. He's been drawing professionally since 2002 and started at Disney in 2008.
"My friend was doing it and it seemed like fun," he says.
Last year was Graham's first year at the Oklahoma State Fair. "We had a bad location last time," he said. "But the one we have this year is great. We have a lot of more customers."
Graham doesn't have a preference on what to draw. He enjoys drawing anything. He said after the fair is over, it's back to Orlando.
Levoan Tillman Jr., 19, who was working a game booth, said last year was his first time at the state fair. He said he does the job for the fun, not for the money.
Tillman is headed to Detroit for college after the fair ends.
Nearby, Brandon Ware was working the Block Buster Game. The game requires one ball to knock off three blocks in order to win. Ware is from Atlanta. He said he has been fascinated by the fair since he was a kid.
"I used to go help with the rides and set up," he said. "One day I asked if I could travel with them and they said yes, and I've been traveling around the country since I was eighteen."
After Oklahoma, Ware will head to the Alabama State Fair. He said he'll be working state fairs until November.
"My favorite thing about all of this is seeing kids smile," Ware said.
Brandon McGee is a face painter and works for Body Pizzazz. He's been there since 2010, when he joined his wife who has been painting faces for 20 years.
"We're out of Atlanta, and have been up and down all of the East Coast, Texas and Oklahoma," McGee said.
He's been coming to the Oklahoma State Fair for four years. "I like our location here, but I'd rather be in Kittyland," he laughed.
He said his favorite face painting is a skull for boys and a cheetah for girls. "It's fun. We love to create smiles. After this, it's back to Georgia," he said.
Andrew Alsup, 21, was working a toy stand, selling swords, umbrellas, hats and other toys. He currently works for the traveling circus, Circus United.
"My friend who also works in the circus told me about this job and I thought it'd be pretty cool. So that's how I ended up here," he said.
Alsup says Circus United is a "good-hearted family circus" and "very kid friendly." He described himself as a "hands-on, hard worker."
"At seventeen I ran away to the circus and have been setting it up for four years now," he said.
Alsup's schedule at the fair runs from 8:30 in the morning to about midnight each night.
"When it rains at the fair, some people buy umbrellas from me or go straight to the building!" he laughed. "They all scatter like cockroaches."
Alsup recommended working for the fair. "You get to travel to all these places and meet interesting people. It's pretty cool," he said.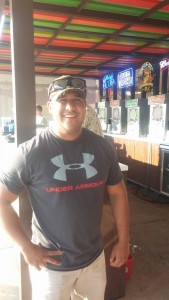 After Oklahoma, Alsup is going to Lake Charles, Louisiana.
Addison Perez was working at The Beach, a bar at the fair. He and all his co-workers there, were volunteers. They also serve in the Navy.
Perez has been in the Navy for three years, as a military policeman. He's stationed at a small sector personnel office at Tinker Air Force Base. Perez is attending the University of Oklahoma for a Criminal Justice degree.

For Perez and his friends, this is the second time to volunteer at the Oklahoma State Fair.

"We wanted to work in alcohol," he laughed.  "Four o'clock is when we're most busiest, because it's happy hour."
Perez said he and his co-workers could be working in the worst situation, but with them, they can do anything. "It's never a dull moment with these guys," he said.

He says working at the fair is "totally fun" and he highly recommends it.
About a million people are expected at the fair during its eleven day run. Another million will wait again for the fun to return in 2018.