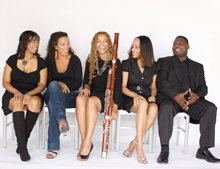 Photo Courtesy Chris Carroll/
imaniwinds.com
A crowd of more than 100 stepped back in time Oct. 4 when quintet Imani Winds performed in the Bruce Owen Theater as part of the Cultural Arts Series.
The band combines five vastly different members of the wind family — the flute, oboe, clarinet, French horn and bassoon — for one melodious sound is unlike anything played on radio today.
Posters touted the Grammy-nominated band as music from "almost yesterday."
That statement seems contradictory until you experience Imani Winds' music firsthand.
The band took to the stage with the aptly titled "Red Clay and Mississippi Delta," an original, jazzy tune that would perfectly compliment a porch swing and a cool pitcher of iced tea on a sunny southern day.
At one point during the song, clarinetist Mariam Adam stood up and snapped her fingers to the beat, beckoning the audience to follow.
Before long, the theater resonated with the sound of snapping fingers and lit up with smiles all around.
Those smiles never faded as the show went on. "Puzzle-Tocas" was a particularly jaunty tune that would have suited Bugs Bunny with its upbeat sound, cheerful riffs and sudden changes in volume.
However, the real showstopper was a four-piece ensemble originally written by Pavel Haas, a Czech composer who was killed in the Holocaust.
The set began with "Preludio," or prelude, which was written when Haas was a teenager unable to imagine the horrors that would someday end his life.
Perhaps the most stunning of the four was the second piece, "Preghiera," or "prayer" in Czech. The song started off soft, like a quiet wish, slowly gaining momentum before exploding into a deafening roar of courage and strength that left the audience breathless.
That awe-inspiring piece set the stage for its successor, "Ballo Eccentrico," a delightfully eccentric tune that told the story of a maturing young man full of spirit, ready to enter into an adulthood full of promise.
We heard that promise come to fruition in the closing piece, "Epilogo," a fitting epilogue to an epic story. With nothing but the instruments gripped in their hands, Imani Winds managed to paint a glorious portrait of an extraordinary man in a 45-minute ear extravaganza.
Performances like the Haas tribute makes the "almost yesterday" tagline make sense.
Like no other band before them, Imani Winds has the unique ability to take centuries-old pieces and make them fresh again with an infusion of jazz, big band, and chamber music that sounds strange on paper, but incredible in action.
It is music that makes you think, imagine, and wonder: How did they not win that Grammy?
Rating: A
To contact Whitney Knight, email onlineeditor@occc.edu.