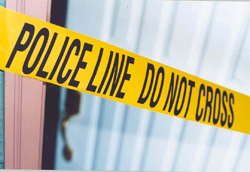 Crime at OCCC has recently been dominated by several types of theft and property damage.
On the morning of Oct. 11, student Kelli Potts reported several bottles of prescription drugs had been stolen from her backpack. The prescriptions had been stolen the previous Wednesday but Potts said she hadn't noticed they were missing at that time according to the Safety and Security Report. The drugs are valued at roughly $100.
Two cars were damaged, also on Oct. 11, in apparent attempts at stealing the vehicles.
At 12:45 p.m., student Andrew Smith advised campus security his vehicle was damaged in an attempted theft. He reported his car had damage to the driver's side door and steering column. Smith's car was parked in parking lot A.
Later that day, student Kirk Gatewood reported his car also had been broken into.
Although no items were missing, there was damage to the door. Gatewood also was parked in parking lot A.
On Oct. 12, student Amy Caban reported her cell phone had been stolen from a table near the coffee shop when she left it behind while she went to another area of the college. Caban said the phone is a black Samsung valued at $200.
A person was seen stealing books from the campus book store on Oct. 13. The person, a male with a mohawk and sunglasses, reportedly put books under his shirt and then paid for less expensive items.
When the suspect was confronted he fled on foot and was observed ducking between cars in parking lot A.
Safety and Security Coordinator Keith Bourque identified the man as Craig Ralls. Bourque said campus security has dealt with in the past for a similar crime.
Officers searched the campus for the suspect but were informed by Bourque that the suspect was seen on camera leaving campus in a vehicle. Video evidence clearly shows the suspect placing books under his shirt and later fleeing.