Testing Center helps students get ahead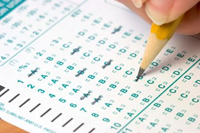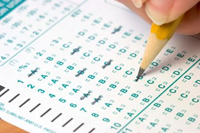 When Elija Gill first came to OCCC in fall 2010, he was faced with having to take several remedial classes — zero-level classes that catch a student up to college-level learning but offer no college credit.
"I graduated from an inner city school and I barely had to study to pass my classes," Gill said.
"My ACT composite score was 15 … I re-tested in the Testing Center and I was able to get into English 1113 but I continued to struggle in the math."
Gill is not alone.
Three out of four high school graduates aren't fully prepared for college and likely need to take at least one remedial class, according to the latest annual survey from ACT, the non-profit testing organization that measures half of the nation's high school seniors in English, math, reading and science proficiency, according to www.freepublic.com.
However, OCCC's Testing and Assessment Center gives those students a chance to redeem themselves by offering placement testing, said Testing Center Assistant Samantha Olsen.
Olsen said the Testing Center offers both entry-level and academic testing.
She said the service is beneficial for students who initially tested into remedial courses and want the chance to to test higher, as well as advanced students who would rather test out of, or CLEP, a course for a semester.
"Our Testing Center gives students [who] tested poorly on the ACT or SAT another chance to score higher in their subsections," Olsen said.
"[The] tests aren't timed which allows students to test at their full potential without worrying about how much time they have left."
There are four branches within OCCC's Testing Center and Assessment Services department: General Educational Development, The Testing Center, College-Level Examination Program, and Assessment Services, according to www.occc.edu/acs.
The General Educational Development (GED) program, offered to students who didn't graduate high school, gives students the opportunity to increase and continue their education. The introduction program (GED classwork) informs students what is required to obtain a high school diploma/GED.
GED testing is a seven-hour exam that measures high-school level fulfillment in five areas: writing, social studies, science, language arts/reading and mathematics.
Passing the GED test shows a student has met the required skills needed to receive a high school diploma. To pass the GED test, a student must score an average of 450 on each section.
The College-Level Examination Program (CLEP) is a sequence of tests which permits students to earn college credit for a subject they know regardless of where they learned the materials. All (CLEP) exams are 90 minutes long, and cost $77 dollars per exam. Students will receive instant results after completing an exam.
Assessment Services hosts the following tests:
• Entrance Testing: for students who haven't taken either the ACT or SAT tests.
• The TOEFL: evaluates the potential of non-native speakers of English to utilize and comprehend English as it is used in a university setting.
• The Test of Essential Academic Skills: evaluates a student's skill content in reading, mathematics, science, and English and language usage, which is required for nursing students.
• ACT: a national test that lasts two and a half hours including breaks, and tests reading, mathematics, science, and English and language usage.
•ACCUPLACER: assists in placing students into appropriate college-level or ESL courses.
The Testing Center is open from 8 a.m. to 9:30 p.m. Monday through Thursday and 8 a.m. to 5 p.m Friday through Saturday. Testing and Assessment Services is located on the first floor of the Main Building.
To contact Mariah S. Johnson, email onlineeditor@occc.edu.