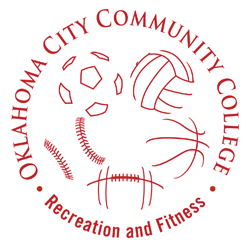 Students can work out for free in the college Wellness Center, said Charlie Tarver, sports and recreation assistant.
The Wellness Center is located on the southwest side of the Main Building.
Tarver said students can use the basketball and volleyball courts in the gym just by checking in at the desk first.
The hours for the weight room and basketball courts are Monday through Friday 6 a.m. to 8:30 p.m., and from 9 a.m. to 4 p.m. on Saturdays, said Eric Watson recreation and sports specialist.
He said a dress code of tennis shoes and apparel other than jeans is required in the gym.
The OCCC weight room has free weights, flat bench, incline and decline bench, a squat rack, and numerous machines for all different types of exercising, Tarver said.
Lauren McKenzie, Wellness Center staff member, said students using the weight room must first sign in at the Wellness Center desk with their student ID.
Then, a wristband will be issued that must be worn while using the equipment.
Student Shane Fairchild said he is happy with the fact that the gym is free to students, and can usually get a full work out rather quickly.
"The OCCC gym meets all my needs," Fairchild said.
An Olympic-sized pool also is free to use.
The hours of the Aquatic Center are 6 a.m. to 1 p.m., and 5 p.m. to 8:30 p.m. on Mondays, Wednesdays and Fridays.
Tuesdays the pool is open from 6 a.m. to 8 a.m., 11 a.m. to 1 p.m. and 5 p.m. to 8:30 p.m.
Lifeguards are on duty during all operating hours. McKenzie said students using the Aquatic Center must sign in with a current OCCC ID, get a wristband, and shower before using the pool.
She said the changing rooms have two types of lockers — daily use lockers, and lockers that are available to rent for a six-month period.
She said students must provide their own locks for the daily use lockers, but the rentable lockers have combination locks on them.
All of this information and more can be found on the OCCC website at www.occc.edu/RF/Wellness-Hours, e-mailing ewatson@occc.edu or by calling 405-682-7860.