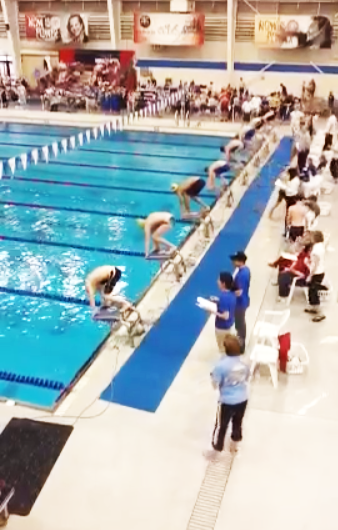 Just hours after the news came of OCCC's plan to close the college's Aquatic Center after Labor Day, Oklahoma high school students and their parents sprang into action, taking to social media to oppose the closure.
With seven high school swim teams — Westmoore, Moore and Southmoore high schools, Putnam City, PC North and PC West high schools, and Mustang High School — using the pool for practice and meets, many are speaking up.
The hashtag #SaveOCCCAquaticCenter was created by Justin Wu, an Oklahoma swimming athlete representative and Norman North High School senior. It elicited more than 300 tweets in less than 48 hours.
Wu said he was shocked when he heard about the closure through Facebook. He said he posted on Twitter to help spread the word about how he believes the community will be negatively affected by the decision.
Wu said he attends multiple swim meets each year in the Aquatic Center and sees the pool as an important part of the swim community.
"The direct community surrounding OCCC will definitely be affected because it provides recreation for the people," he said. "People won't be able to swim and it's just a really healthy sport."
Wu said with the pool being the largest in Oklahoma City, several swim teams rely on it to host their meets. He said, if it closes, it will hinder the growth of the swim community in the area.
" … We're already at a shortage of pools … ."
An email sent by OCCC President Paul Sechrist on Wednesday, April 15, telling of the closing, did not address all of his questions, Wu said. He said he hopes to get them answered soon so he can determine the best next course of action.
Wu said he wants a breakdown of costs and wants to know, what, if anything, the college is willing to spend on the pool.
"I just want to get a feel for it, because it's just kind of vague right now. They just said they would close it because they didn't really feel like spending the $6 million. I hope there's a little bit more (information) to be released."
Wu said swimming is important to him and many others in the community.
" … I've been swimming for 11 years and swimming's just been my whole life," he said. "I'm part of the Oklahoma Swimming Organization serving as the Athlete Representative, so it's kind of my job to express views of swimmers [who] have talked to me — and they've been really upset … .
"I know this will affect many, many people in the state and beyond the state, so this is really important for all of us."
Talitha Vicente, Aquatic Center employee and Westmoore High School senior, said she heard the news on the evening of Tuesday, April 14, in a meeting with the rest of her co-workers. She said the news is upsetting.
Vicente said she wants the administration to see the benefit of keeping the pool open.
"I've swam there for eight years and now I work there," she said. "I just want to help … . It helped me and helped be a sport for me that I felt comfortable doing, and now I teach little kids how to swim.
"I've watched them go from not knowing how to swim to swimming on a swim team and wanting to swim in college, and I don't want their dreams to die."
To raise awareness and gain support in the community, she created the @occcpool Twitter account. Vicente said the page serves as a resource for people to spread the word and share their stories. She encourages people to follow @occcpool to learn more about how they can help.
"The more people that get involved, the more people are going to find out about it and possibly help us persuade the board to reconsider their closing decision," she said.
Vicente said she also is currently in the process of creating a swim-off to help raise funds to keep the Aquatic Center open.
Julie Moran, a concurrent OCCC student and Aquatic Center Employee, plans to start a petition and do anything and everything it takes to help save the pool. She said it is an iconic landmark for Oklahoma City and she will fight to prevent the closing.
"This is what the college is known for," Moran said. "[OCCC is] known for having an Olympic-sized swimming pool … . We've had Olympians swim in this pool and break records … . This is a place of history and you can't take it."
Home is a word many high school students use to describe the pool because they spend more time in the water than at their house. The swimmers consider one another family, Moran said. When things in her life took a turn for the worse after contracting a deadly disease from a stingray sting, she said she turned to her peers and the Aquatic Center.
"I would probably not be alive today if it was not for this pool," she said. "I was lying on my deathbed and my last wish was just to come swim one last time. I had people supporting me and that's why I'm here today."
Students are not the only ones against the closure of the Aquatic Center. Parents also are shocked by the decision.
Community member Suzan Haizlip said her family frequently uses the facility because her daughter attends practice for the King Marlin Swim Club four nights a week. She said the closure will affect a large area outside of the college and she wants administrators to realize the impact.
The benefit of the pool is priceless, Haizlip said.
"It's affecting Oklahoma City. It's affecting our image and how we view swimming as a sport and how we view water safety and other water things — the diving, the scuba divers, the geriatrics. A lot of different swim members in our community use that pool.
"It's not just for the community college and it wasn't built just for the community college" Haizlip said. "It was built for the community in 1989. So, I hope they get a sense that this decision wasn't just a decision that affected them and how it's going to affect them financially, but how it affects the community. I think you can't put a price tag on the effect it's going to have on the community."
Like the students, Haizlip has been active on social media and plans to approach lawmakers in Moore and Oklahoma City.
The students agree that no other pool in the metro area offers enough practice space. Kirsten Howell, Westmoore Senior and Aquatic Center employee, said OCCC is the only viable space for swim teams to practice.
"I think it's going to be really hard for [the teams] because each team usually takes from three to four lanes … and [the Aquatic Center has] a lot of lanes," she said. "Where are they going to go?"
Howell said taking away the pool will mean taking away the sport.
Hannah Hall, Westmoore Swim Team member, said although nothing has yet been decided as far as the team goes, they are currently looking for options. They have hope that the OCCC administration will reconsider their decision and give the Jaguars and other swim teams the ability to keep their teams together.
"We've looked into other locations that we could start going to and nothing is showing up, so we don't know for sure what we're going to do … ," she said.
"I would love for them to reconsider, to think about some other options. I know that financially it's hard and I don't know specifics on that, but I personally believe what they have here is worth keeping and worth looking into — just figuring out what they can do instead of closing it."
Haizlip said the pool's closing could prove to be detrimental to the swim community in Oklahoma and a create ripple effect that could impact the nation.
"Oklahoma swimming has grown," she said. "Since 2013, Oklahoma swimming has led the nation in growth and we're going to continue to grow if we're given the opportunity. "But if we lose our pool, then we lose our place to practice, and we lose our kids having their safe place to go and practice, (and) we can't continue to grow. "As a nation, we'll lose our swimming, but as a state, it will hurt us even more."
For more information about the OCCC Aquatic Center, visit http://pioneer.occc.edu/index.php/news/1-latest-news/4365-aquatic-center-set-to-close-after-25-years.