Students shown opportunity in Oklahoma at InternOKC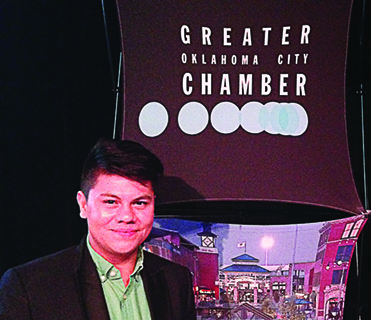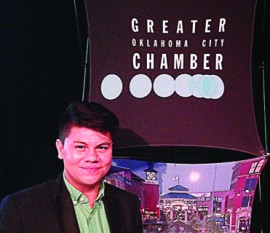 Ten OCCC students were among the nearly 400 other college students from Oklahoma and elsewhere who came to network with professionals and learn what Oklahoma has to offer its young
professionals during the five-week InternOKC program in Oklahoma City this summer.
OCCC Employment and Graduation Coordinator, Christina Atencio, said the program gives students the opportunity to create friendships and partnerships so they can continue building their networks.
InternOKC is one of three initiatives of the Greater Oklahoma City Chamber's Education and Workforce Development department according to greatergrads.com.
Program committee member and Box Talent Agency agent Katie Long described the mission of InternOKC.
"The purpose and mission of InternOKC is to encourage the leadership and professional development of the interns in our city for their own betterment," Long said.
She said she also hopes to encourage students to remain in Oklahoma City after they graduate.
OCCC sophomore and business major Salvador Arcivar said the InternOKC sessions encouraged him to stay in Oklahoma even though his original five year plan was to pursue his business career out of state.
"My biggest take away has been learning about all of the new economic development in Oklahoma City," Arcivar said.
Guest speakers discussed social media, communication in the workplace, career expectations and more.
Guest speaker Ken Eastman, dean of Spears School of Business at Oklahoma State University spoke about communication between generations in the workforce during his presentation.
Eastman said baby boomers and millennials currently make up the workforce.
Other special speakers included Oklahoma City Mayor Mick Cornett, Greater Oklahoma City Chamber President and CEO Roy H. Williams, Oklahoma City Manager Jim Couch and others from different professions from around the state who shared their advice, recalling their time as interns.
Alongside special presentations, community organization fairs allowed students to speak with members of the community and businesses.
This year's emcees Kelli Dupuy, marketing and development director at Special Care Inc. and Sheena Karami, Ackerman McQueen vice president encouraged students to use the program's committee members as resources of knowledge to learn about Oklahoma City and the steps to take to reach professional goals.
Journalism major Raven Diaz said the program allowed her to discover more about Oklahoma City.
"InternOKC is a wonderful investment of time for the future professionals of OKC," Diaz said.  
A number of colleges and universities from across the state were represented, including the University of Oklahoma, Oklahoma State University, Oklahoma City University, with students from a variety of majors including engineering, communications, theatre and dance.
For more information about the InternOKC program visit greatergrads.com.