Student finds lack of instructor respect disturbing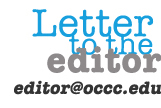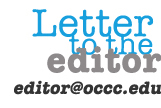 To the editor:
I am a student at OCCC working to obtain an associate degree in nursing. I have had courses at OCCC before, and I favor the one-on-one interaction the instructors have with the student population.
Currently I am taking four courses, including College Prep Math II with Professor Coffman.
After three class periods, I have yet to be satisfied with the respect the students show to the instructor.
Students talk loudly to one another and are disruptive during class lecture and computer class.
As this is the second time I have taken this class with the same issues, I don't think this is solely the instructor's fault or responsibility to correct.
I am a student with learning disabilities, and I do not appreciate that I pay for classes and because the majority are unwilling to learn, I don't get access to the class.
Why should I be punished with having to come to tutoring more often or getting a lower overall grade due to the disruption of unruly classmates?
I don't want to waste my time or money at school nor do I want anyone else to.
Besides, OCCC is doing a major injustice to students by allowing this to continue.
College is an institution of learning intended to produce professional, productive citizens.
We all know that the real world is not going to allow this kind of activity in the workforce.
—Chase Kruger OCCC Student
Editor's note: For the full version of this letter, visit the Pioneer Online at www.occc.edu/pioneer.