Snowstorm costs college in number of ways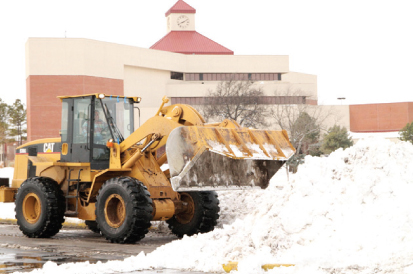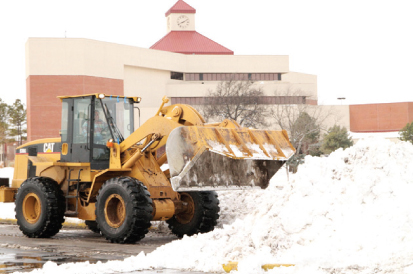 Rachel Morrison/Pioneer
A front-end loader moves aside snow in a parking area near the library. College crews worked during the days OCCC was closed to clear campus parking lots so the college could reopen. OCCC was closed Feb. 1 through 4 and again Feb. 9 as record amounts of snow moved through the state.
Winter snow storms that dumped several feet of snow across Oklahoma City shut down campus for an "unprecedented" number of days this week and last.
In addition to closing an hour early Monday, Jan. 31, the main OCCC campus and off-campus buildings like the John Massey Center and Family and Community Education Center were closed for the rest of the week before opening again on Saturday.
And that wasn't the end of winter's effects on OCCC. The college shut down early again Feb. 8, all of Feb. 9, and part of Feb. 10 before reopening for evening classes.
That number is unprecedented, said OCCC President Paul Sechrist in an e-mail.
"I would prefer that we could be open, but conditions on campus were too hazardous to open," Sechrist said. "The decision to close and when to open is decided primarily on one factor — safety.
"Even though our roads, sidewalks, and building entrances (were) free of snow, it (took) additional time before all of the parking lots (were) cleared," he said.
Sechrist said efforts to clear the campus of snow and ice were put into motion Thursday afternoon.
An estimation on the money spent to clear campus of snow and ice was not available at press time.
Costs to clean up after last year's February snow storm, which closed campus for three days straight, totaled $20,512.50, said Gary Phillips, Building and Campus Services supervisor, in a Feb. 5, 2010, issue of the Pioneer.
The decision to remain closed also factored in area road conditions, as well as public school closings.
"I know that it will take some effort and adjustments to make up for these days," Sechrist said.
"The ideal semester would not include any unexpected closed days. This is not a situation I desire, but one that we must deal with, both as administrators, faculty, staff, and students. I know that faculty either [has been] or will be communicating with their students on any adjustments in the semester calendar to fulfill the objectives of the course."
Professor Rick Allen Lippert, who teaches Video Production, said faculty and students must work together to make up for lost days.
Lippert's students have missed two Wednesday classes because of the weather.
"… since my class is tightly scheduled and my students must be on campus to use the video equipment and lab, much of my plan to make up for lost time requires that they do their part.
"If my students can't meet an accelerated schedule, then my plan fails," he said.
Although campus was shut down, Online Marketing Coordinator John Richardson said that didn't stop college officials from communicating with students.
As the storm moved in and campus closed, Richardson said, the college began using online utilities such as the Campus Alerts Notification system, the college website, Facebook and Twitter to relay closure updates to students as well as to communicate with them.
He said OCCC also used "traditional local media," such as local news stations, to distribute information.
Between Monday evening and Friday afternoon, more than 50 official messages announcing closures, as well as questions posted by OCCC students, were been posted to the college's Facebook wall.
"I monitored the college Facebook page (and tried) to address as many of the questions and concerns that students have posted as possible," Richardson said.
"I think that social media can do an excellent job of responding quickly to students, and we take that responsibility seriously.
"If students want the college Facebook page to be the channel for conversation with the college, we are happy to provide that," he said.
Richardson said it is "quite normal" to see significant increases in the number of Facebook fans and in Twitter followers during periods of bad weather.
"We have added almost 150 new Facebook fans since Sunday and about 20 new Twitter followers," he said.
That number likely increased again after a second round of winter weather closed the campus for an additional two days.
The Campus Alerts Notifications system, CAN, which is facing its greatest trial since its inception last July, has seen relatively few hiccups, Richardson said.
A technical error on Tuesday caused many users to receive five to six text messages, all of which came from different area codes, regarding OCCC's closing.
"We have expressed our concern to the company that provides us with the system used to transmit these messages," he said. "The college must have a dependable system for the quick distribution of alerts."
Despite the minor glitch, Richardson said, he feels the system has been a success.
"I think that both the (Campus Alerts) system and social media provide additional channels to communicate quickly with the college community about the closures," he said.
Although he did not appreciate the multiple message error on Tuesday, meteorology major Kyle Tanner said he utilized the Campus Alerts system, as well as the college Facebook page.
Chelsye Bacon, photography major, said she has appreciated being able to spend time with her family during OCCC's closure.
"The storm hasn't affected my classes much since I have online classes and one at the school," Bacon said.
"I think that OCCC made the right decision in shutting down because the roads are still extremely bad in places.
"[On Feb. 3,] I drove just a mile down the road to get (groceries) and the roads are just extremely icy."
Although OCCC's closure was inconvenient, allied health major Lisa Bee said she was glad safety came first.
"Nobody needs to feel the pressure of making it to school when the road conditions are so hazardous.
"Students and instructors can address the missed work when classes resume," Bee said. "There is a solution to everything."
For updates regarding campus closures, visit www.occc.edu. To sign up for the Campus Alerts system, visit www.occc.edu/can.