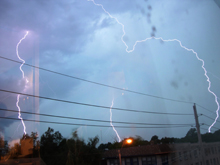 With the severe weather season in full swing, students should make sure they are doing everything they can in order to stay safe when bad weather approaches.
Director of Emergency Planning and Risk Management Lisa Teel said in the event of severe weather, there are a number of ways students can be notified.
"A message will come across the screen if a professor is using a projector," Teel said. "Messages also come across the phones and fire alarms so an actual audible will come over and you will hear a person talking."
Students traveling outdoors between classes will also receive a warning via speakers. The campus alert notification system allows students the option to supply their phone number online so in the event of severe weather or closings, they will receive text messages to their phone. In addition, the school's Facebook, Twitter and college home page all provide current weather updates.
OCCC has recently become a "storm ready" campus and added items such as wayfinder signs and floor captains, Teel said. If severe weather does occur, wayfinders will show students the nearest safe area while floor captains will directly point them out and assist students to safety.
"Being recognized by the National Weather Service shows we have taken precautions and are proactive in what we do to monitor the weather," Teel said. "Our safety and security officers and campus police department do a great job of monitoring the weather then getting the word out."
There are many other ways students can stay prepared if not home as storms approach. Many free phone apps such as the News 9 Weather application provide a current forecast, live radar, and even links to videos, blogs, school closings, and more.
In addition, news meteorologists such as Gary England, David Payne and Rick Mitchell all send out weather updates via twitter as they turn up. Accounting major Galveston Suazo says he mostly prefers to get his weather updates the old fashion way.
"Usually I just watch the news but I also have a weather app on my phone," Suazo said. "Luckily I never seem to be at school when severe weather happens."
Teel added it is important for professors to go over safety precautions at the beginning of each semester.
"Not all your classes are in the same building," Teel said. "You may know where the safe area is in the SEM building, for example, but not for the social sciences building. So often we get busy and aren't paying attention to the weather," Teel said. "Just make sure you are watching out for yourself and try to be responsible and understand that the weather can change at any time."
To learn more about receiving weather texts, visit www.occc.edu. To get additional updates from OCCC, "like" Oklahoma City Community College on Facebook or follow OTripleC on Twitter.
To contact Erin Peden, email staffwriter1@occc.edu.