Security veteran dead at 58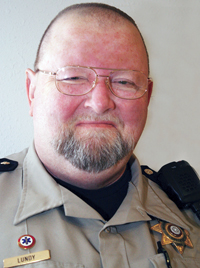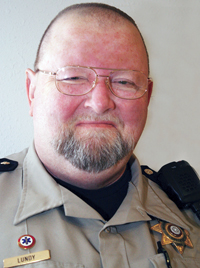 Larry Lundy
OCCC Safety and Security Sgt. Larry Lundy, 58, died Saturday, April 23, following an emergency procedure at Integris Southwest Medical Center.
Lundy worked at OCCC for 17 years, said Human Resources Assistant Jo Burris.
English Professor Bertha Wise said she first met Lundy not as a security officer, but as a student.
"I first got to know Larry when I took over teaching a literature class from a colleague who was too ill to continue," Wise said.
"We began studying poetry right when I took over, and Larry was a little bit negative about that. He didn't think anyone needed to study poetry.
"I listened to his comments about old, dead, stuffy poets … and I assured him I would make it as enjoyable as possible," she said.
"After four weeks of reading, writing, and discussing poetry, he admitted that my choice of poems and poets were 'not so bad' and he thought maybe I'd like to read something."
Then, Lundy handed Wise a sheet of paper on which he had written a verse.
"I don't recall the words, but I could tell his poem was from his heart and he had something to say," she said.
Over the years, Wise said, Lundy would occasionally share more poems he had written with her.
"A few years ago, when he and (Lundy's wife) Debbie celebrated one of their anniversaries, he proudly announced that he had all sorts of plans, including a poem for his wife."
She said it is that thoughtful passion she will miss the most.
"I always loved seeing his friendly face," Wise said.
"He was so helpful. He wanted to help everyone, whether it was by bandaging a knee or unlocking a locked car."
Another friend Lori Lowe, Shipping and Receiving clerk, said she witnessed that kindness firsthand over the 12 years she worked with Lundy.
"He was a very caring man," Lowe said. "There were times when I was down on my luck and unable to have lunch, and he would call me up to make sure I had enough to eat."
She said Lundy was like an uncle to her.
"If I was having a bad day, he was able to tell. He would always fix me up.
"He wasn't judgmental, he wasn't critical," Lowe said. "Everybody was his friend."
Former OCCC student Chelsea Cisneros said talking with Lundy was always a pleasure. "When I worked at the Math Lab and people forgot their belongings, I'd take them down to the security office," Cisneros said.
"It was as though he had a rule not to let people leave without a smile on their face."
Funeral services for Lundy are to be held at 10:30 a.m. Saturday, April 30, at Draper Park Christian Church at 8500 S. Walker in Oklahoma City. Rev. Ted Conway will officiate.
Interment will follow at Union City Cemetery in Union City.
Survivors include his wife, Debra Lundy; son, Timothy; daughter, Jennifer; father, Paul; and two brothers, Jerry and Joey. He was preceded in death by his mother.
An online guestbook for Lundy can be signed by visiting www.vondelsmithmortuary.com.
In addition, the Pioneer invites anyone who would like to share comments and memories of Lundy to visit www.occc.edu/pioneer or our Facebook page at www.facebook.com/OCCCPioneer.