Political Science professor discusses Paterno legacy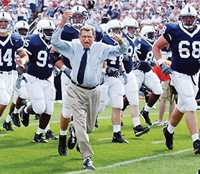 When Joe Paterno, long-time head coach of Penn State football, died Jan. 22 at the age of 85, the nation was divided on its feelings.
Paterno spent more than 46 years at the position where he became heralded as one of football's all-time greatest coaches but just before his death he also was the coach who was fired after one of college football's biggest scandal came to light.
Sexual assault allegations against former Defensive Coordinator Jerry Sandusky shrouded Paterno in the midst of controversy and ridicule, eventually leading to his firing.
Paterno's firing led to a firestorm of debate regarding his legacy.
OCCC student and former flag football team captain said Victor Quezada said he is torn on the subject.
"Paterno was spectacular with how he took a school 60 years ago and turned them into a powerhouse on the football field.
"His dedication was like no other," Quezada said. "But sadly, after the Sandusky incident, his reputation was tarnished."
Max Kelton, political science professor at OCCC, said Paterno's legacy varies by the individual
"His legacy will always be based on an individual's opinion," Kelton said. "No two people will always agree on what he will be remembered for."
Kelton compared the Paterno legacy to another divisive situation involving an icon of different sorts.
"Some people love Michael Jackson while others despise him for reasons quite similar," Kelston said.
"The one thing I can guarantee about Paterno is he will never be placed in the same stadium as anyone who commit[ed] [the acts] Sandusky has been accused of."
Paterno won more football games than anyone in major college football history, totaling 409 wins. He also led Penn State to two national titles in 1982 and 1986. He was inducted into the College Football Hall of Fame in 2007.
Those in the Penn State family have expressed their sorrow at the loss of Paterno. Penn State President Rodney Erickson echoed those sentiments.
"We grieve for the loss of Joe Paterno, a great man who made us a greater university," Erickson said.
"His dedication to ensuring his players were successful both on the field and in life is legendary, and his commitment to education is unmatched in college football.
"His life, work and generosity will be remembered always."
At his memorial service, more than 12,000 people attended to show their respect for a man who was the face of Penn State for more than half a century.
To contact Morgan Beard, email pioneergraphics@occc.edu.