Photography students featured in campus exhibit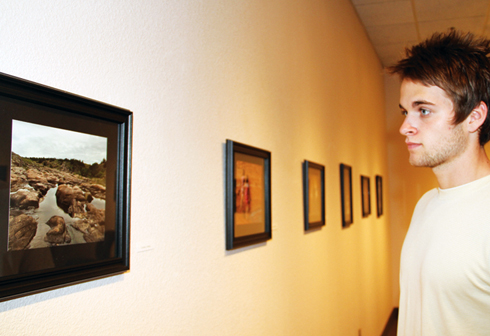 Rachel Morrison/Pioneer
Student Bryce Zachary observes a photograph by Courtney Debois in the Visual and Performing Arts Center gallery. The pictures were taken by photography students last year.
The works of advanced photography students will be on display in the college art gallery through Wednesday, Sept. 22.
The gallery, located in room 136 near the main doors of the Visual and Performing Arts Center, is open from 11 a.m. to 6 p.m. Monday through Friday.
The Digital Photography II students have put together the collection based primarily on their course work from the spring semester, said Professor Randy Anderson, who taught the class.
The photos include architecture, landscape and portrait themes.
One unique image is composed of a stack of paper clips photographed by Stephanie Woodward, which captures the cartoon-like essence of paper clips set against a vibrant white background.
A piece by Michael McMillan shows the fountain located outside of the Keith Leftwich Memorial Library from an upward angle, making the it look almost abstract.
Portraits also make up part of this exhibit.
Julie Bragg, photography major, has both architectural and portrait shots featured in the show.
In the architecture photo, Bragg stood beneath the angled corner of a building and shot upward, creating a spire effect.
The portrait shows a bride clad in her wedding dress, gazing at a boquet of flowers.
"Photography has always been a passion of mine," Bragg said.
"People always say it's not art, but to me, it's visual art," she said.
She said she makes a good profit from photographing families, weddings and senior portraits.
The main inspiration for her career choice, Bragg said, is her mother, who also was a photographer.
Other photography students featured are Chris Brown, Ivan Caro, Courtney Dubois, Leslie Goble, Natasha Harlan, Cesar Hernandez, Kristina Hunter, Ashlee Jackson, Aubrey Lewis, Jennifer Lippoldt, Angella Lopez, Kyle Madden, Amiee Pinkerton, Janet Reznicek, Jill Robertson, Alan Rowe, and Adrienne Sarcoxie.