Oklahoma Congressman Tom Cole to speak at graduation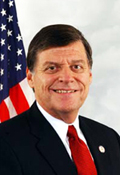 Congressman Tom Cole
A good commencement speaker is an important part of graduation, said Paul Sechrist, OCCC president.
Oklahoma State Congressman Tom Cole, will be the keynote commencement speaker at the May 11 graduation this year.
Sechrist said, among other reasons, Cole was chosen because of his academic background.
Cole holds a doctorate in history from the University of Oklahoma with a master's from Yale, Sechrist said.
In addition, he said, Cole also has the distinction of being the only Native American currently serving in Congress.
"[He] works very hard for this area, and has been very helpful to the college on a number of issues," Sechrist said.
"We always pick … a speaker who has ties to the college and the state of Oklahoma," he said.
"We are are a state-supported community college and so it's always nice to have speakers who have an interest in the college, either as part of our state or part of our community."
Sechrist said he takes the choice of commencement speaker very seriously — and not only because he wants to gives graduating students the best experience possible.
"It's one of the decisions I actually get to make.
"The president chooses the commencement speaker.
"Now certainly, I consult with the board (and) I consult with the President's cabinet but in the end, it's a decision I get to make on my own. I extend the invitation to our commencement speaker."
Sechrist said commencement speakers are always chosen from outside the college.
"… In some ways, having an outside speaker gives our students the chance to interact with someone other than faculty," he said.
Sechrist said it's also a chance for the faculty to enjoy different speakers.
"For our students, this is their only commencement, but faculty will have several. So it's nice to have a little variety."
When choosing a speaker, Sechrist said, he first thinks about those who are willing to speak and who also are willing to waive any speaking fees, since commencement speakers at OCCC are traditionally not compensated.
"… There's no cost to the college to have the commencement speakers we provide to students," Sechrist said.
"But we've had no trouble getting leading individuals like [Congressman] Cole to speak at commencement."
Sechrist said he also looks for speakers students can relate to and will find interesting.
"Certainly, when you get to the nuts and bolts of it, we look for someone who has a reputation for being a good speaker, for being a good commencement speaker if possible, and someone we think can deliver a message students definitely relate to," he said.
Sechrist said there are many advantages in having an outside speaker but one is foremost in his mind.
"We think, 'What's one last lesson we can offer our students?'"
To contact Jeremy Cloud, email editor@occc.edu.