OCCC professor presented with peace award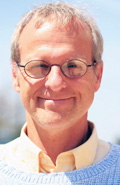 Yasmin Shirali/Pioneer
Professor Morrow
An OCCC professor won a peace award recently for his many years of involvement with Respect Diversity Foundation.
Professor Stephen Morrow accepted his peace award at the 10th annual Respect Diversity gala at Science Museum Oklahoma on March 29.
"I am happy to receive the award for the college and the students," Morrow said.
"It took me by surprise but I certainly feel good about it." Morrow has been working with the Foundation for more than 10 years now, he said.
The Respect Diversity Foundation is a non-profit, taxexempt organization, created to help people of all ages successfully live, learn and work in an increasingly diverse society, according to its website.
Morrow is involved with peace issues at OCCC.
As the adviser for the Advocates of Peace club, he works closely with students to promote peace around campus through events and guest speakers at club meetings.
The founder of Respect Diversity Foundation, Michael Korenblit, is one guest speaker Morrow likes to invite to talk to students.
"I have been a fan of (Michael's wife) Joan and Michael for many years now, and I hope that we have many more years of peace-making together," Morrow said.
Morrow also teaches an Advocate of Peace class. In the class, students learn about people from different geographical and cultural backgrounds.
They study two important peaceful leaders, Mahatma Gandhi and Dr. Martin Luther King Jr., on how they created freedom for their people through non-violent and non-aggressive ways.
Advocates of Peace students also got to take part in the Respect Diversity art gala. Students in the class worked in small groups to create one big art project for the event.
This year's project is called Caring Voices, which is on display at Science Museum Oklahoma as part of the Respect Diversity Art Exhibit.
"If we let students know we appreciate their best voice, we can help the world change for the better," Morrow said.
"Peace is a very simple thing for me: it is the core — the core-age, the courage to speak from the true voice of the human heart."
He believes the more each person is valued and the more each person is supported for living from that heart center, the more peace there will be.