OCCC employees receive first raise in years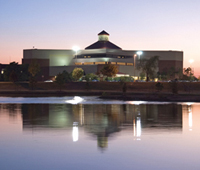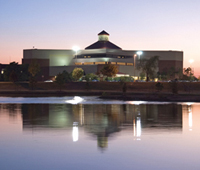 Click here to view the 2011-2012 Auxiliary and Student Facilities Budget.
Click here to view the 2012-2013 Auxiliary and Student Facilities Budget.
Click here to view the 2011-2012 Educational and General Operating Budget.
The recently approved college budget for Fiscal Year 2013 has generated mixed feelings among faculty and staff, despite including allocations for raises for the first time in four years.
"Overall, I am positive about the budget for next year," said Paul Sechrist, OCCC president.
"A modest pay increase for most employees — 2.4 percent on average for regular employees, an increase to $670 a credit hour for adjunct faculty and a 25 cent per hour raise for student employees."
The pay hike came at a cost of higher tuition and standstill department budgets.
"Flat (state) appropriations and a modest increase in tuition and fees, $95 per credit hour to $99, means that departmental budgets can stay the same."
History Professor Ray McCullar said he appreciates the raise.
"I feel the school has been ready to give us a raise but the money hasn't been there because of the economy," McCullar said.
"The college has been very responsible, I think, in not letting people go, in not cutting back on personnel or taking risks. As soon as they were able to give a raise, they are."
McCullar said while he likes the raise, he'd prefer the raise formula be need-based instead of merit-based in a limited funding situation.
"It's just my opinion, but I believe that if any group needed to receive more, younger faculty and people who are more likely to have children who may be lower paid should receive more than older faculty like myself who have been here a while and have had a chance for our salaries to build up."
Tad Thurston, astronomy and physics professor, said he appreciates the effort.
"Pretty much any faculty member would feel that it's too small. But in light of the budget problems, and that we all just feel lucky to have jobs, we appreciate the effort to make us feel valued.
"After so many years of not having raises, we're pretty much ecstatic."
Thurston said he has another reason to be happy about the raises.
"The market for jobs at the collegiate level is always tight but after the recession revenues in general went off a cliff — took a nosedive — we were supported by (federal) stimulus funds for two years.
"But when the stimulus ran out, things started to look a little more bleak. So we're happy to see it start to turn around."
Thurston said he sees an ongoing raise as a good sign for the overall economic situation.
"I don't think the college would have done this if it wasn't sustainable. This administration prefers to take small, conservative steps. They could have done it a couple years back, before the recession really hit, but they didn't.
"And a lot of community colleges did keep hiking up faculty and staff salaries and benefits, and got into some trouble when the recession hit.
"But I think the college did a good job, seeing the coming storm and planning to weather it."
Scott Hader, math lab assistant, said the raise is "great."
"I realize they haven't been able to get us raises for the last couple of years and it's wonderful to get one now."
But Hader said he knows the raises won't immediately make things better.
"The issue is inflation and trying to keep up with everything — especially for those of us who have student loans, and are trying to pay them off."
Hader said he hopes the raises become a more common occurrence.
"Every bit helps, but a 25 cent per hour raise isn't really going to help much. But if that's 25 cents a year, every year, then we can get back to a point where it's enough to help."
In fact, Hader said he'd prefer a series of yearly incremental raises over a single large raise, "unless the large raise was just ridiculous, like 10 to 15 times as large as the small raise."
"If it would put us all up at a big increase that could support us through further inflation, then yeah. But since that's not really feasible, I'd rather take small but steady raises."
Randy Coates, business and finance professor, spoke along similar lines.
"It's nice to be appreciated," he said, "but while that raise on adjunct pay makes the college competitive with other colleges for adjunct pay, it doesn't make being an adjunct a viable full-time job."
Adjunct, or part-time professors, received a $15 increase, bringing their pay rate from $655 per credit hour to $670 per credit hour.
Coates said while the money is a factor, it's not the only factor.
"I enjoy teaching and passing on what I've learned in 40 years in my field. I'm retired and adjuncting provides a nice supplement to my pension and Social Security.
"While I probably wouldn't be able to keep teaching if they stopped paying me tomorrow, I recognize that you can't make a full time living doing nothing but adjuncting.
"So that raise is appreciated, but to adjuncts it's just a little more money in the supplement to whatever it is they do for a living," he said.
Cathy Bowman, Macintosh computers technician, said she's happy about the raise.
"It's nice to have. I wasn't expecting it, just like I wasn't expecting the stipend last year, so it's a nice surprise."
Bowman said she thinks the raise will help in the long term, even if growth isn't consistently sustainable from year to year.
"I mean, just look at retirement. For faculty and staff working toward a pension, that's a percentage of income. So a raise means a bigger number any way you look at it."
Coates said overall the faculty and staff he's spoken to feel pleased about the way the administration is handling the budget.
"I'm really glad that President Sechrist and the rest of the administration has done such a terrific job of managing the finances here at OCCC.
"It's probably one of the best financially managed institutions I've been associated with. And it's because of their good management that they're able to give us this little bonus, and we're glad to have it."
To contact Jeremy Cloud, email editor@occc.edu.