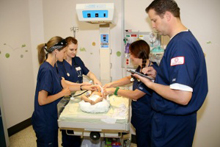 Photo Courtesy www.occc.edu
OCCC's nursing department is adopting a new curriculum that will begin this fall. It will have new statements of mission, philosophy, organizing framework, course and unit objectives as well as new course and program outcomes, said Deborah Myers, Nursing Program director.
The curriculum will have a greater emphasis on many fundamental aspects of nursing such as quality, patient care and safety.
Some of the main changes to take place are making the nutrition course BIO 1023 a pre-requisite, the realignment of other pre- and co-requisite classes, and revamping the sequence of classes, Myers said.
However, she said, the actual courses will not change.
The current, suggested degree plan is no longer a suggestion, Myers said. It is now the required path.
These changes will mostly affect incoming students, she said, as current students in the program will be grandfathered into the old curriculum, unless they fail a course, in which case they will be expected to follow the new curriculum.
A recent health care study revealed the need for radical changes in the way nurses are educated nationally, which prompted the push for changes at OCCC, Myers said.
To receive a nursing degree at OCCC, it traditionally takes four semesters with 74 or 75 hours (depending on which chemistry course is taken).
However, she said, it can take longer depending on the individual student and his or her accomplishments.
Myers said OCCC offers three pathways for nursing.
The traditional pathway admits 72 students in both the fall and spring semesters. The career pathway admits 72 students only in the fall semester and a LPN or Oklahoma Paramedic license is required. The Accelerated program called BADNAP requires a bachelor's degree in a non-nursing major and admits up to 72 students each June.
On completion of these degree programs, the student will receive a Registered Nurse degree.
From July 1, 2011 to June 30, 2012, there were 575 applicants. Of those, 291 were admitted into the three programs, Myers said.
She said to become a licensed nurse, one must pass the NCLEX-RN standardized exam. This test is the same for all nursing students throughout the nation.
The pass rate for OCCC nursing students is very high and well above state and national passing rates. In 2011, OCCC's pass rate was 94.97 percent, Myers said.
When asked if students with an RN degree should continue schooling to receive a bachelor's degree in nursing, Myers said all nurses should strive for a BSN degree because it is difficult to move up to higher positions such as a head nurse or nursing director without one.
She said the only exception would be in rural areas where there are not as many available nurses.
For more information, email Myers at dmyersa@occc.edu.
To contact Shelby Dunham, email onlineeditor@occc.edu.