Maya Angelou tribute scheduled for March 6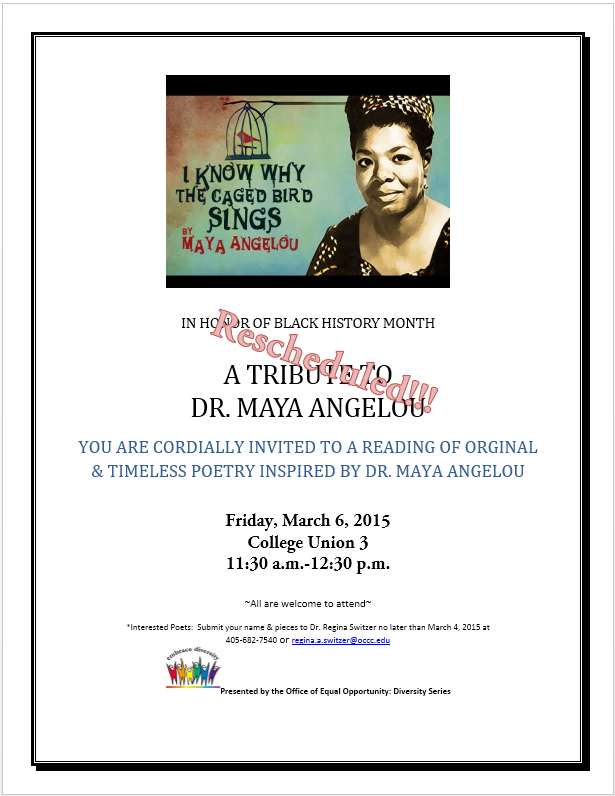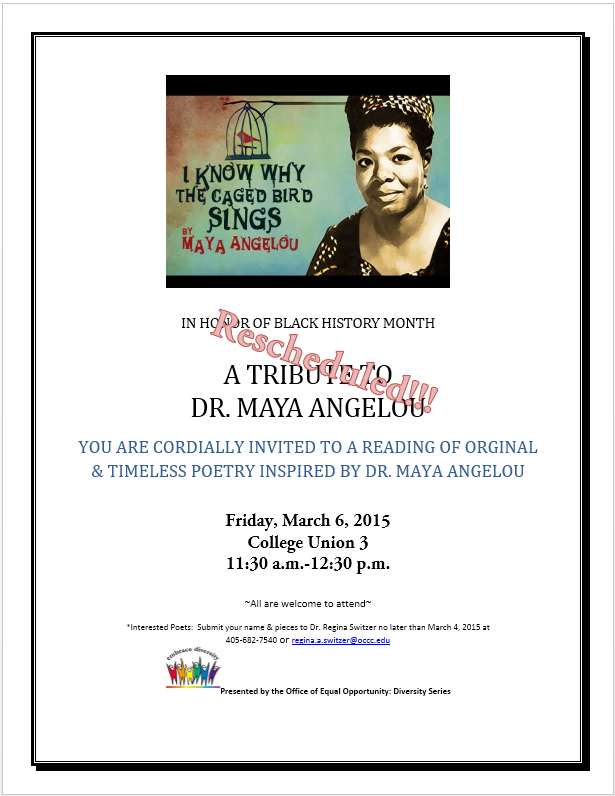 A tribute to American poet Maya Angelou has been rescheduled for 11:30 a.m. to 12:30 p.m. Friday, March 6, in CU 3. The event is described as "a reading of original and timeless poetry inspired by Dr. Maya Angelou.
"Scheduled as part of Black History Month on Feb. 24, the original celebration was postponed due to winter storms, said Regina Switzer, director of Equal Opportunity at OCCC.
When planning an event to honor Black History Month, Switzer said, she thought a tribute to Angelou would be a unique way to celebrate.
"It is a fun event that people should enjoy," she said.
Switzer thought Angelou was the right person to honor due to her death on May 28, 2014, at the age of 86.
Angelou is most known for her memoir "I Know Why the Caged Bird Sings," published in 1969, becoming the first nonfiction best seller by an African-American woman, according to her biography.
She also is the author of many collections of poems and essays that she began writing at a young age, according to a timeline on Angelou's official website.
Her latest work, entitled "Rainbow in the Cloud," was published in 2014.
Switzer said several people are scheduled to read Angelou's poems and others are scheduled for different types of presentations to honor both Black History Month and Angelou.
Carlotta Hill, an OCCC professor and long time fan of Angelou's work, is scheduled to read at the event.
Hill said she first read Angelou's work in the late '70s or early '80s when her work really started to become recognized. The energy and truth in the poet's writing is Hill's favorite part about her work.
"Her sassiness is really intriguing, and I'm drawn to it," Hill said.
Angelou was a civil rights activist who was close with Dr. Martin Luther King Jr. He was assassinated on her birthday in 1968, leaving her devastated, according to her biography on the website.
Angelou then continued her work in civil rights and also has been recognized as an international ambassador for good will.
President Barack Obama awarded her The Presidential Medal of Freedom, the country's highest civilian honor, in 2010.
For more information, contact Switzer by phone at 405-682-7540 or by email at regina.a.switzer@occc.edu.