Library holds Arts program at FACE center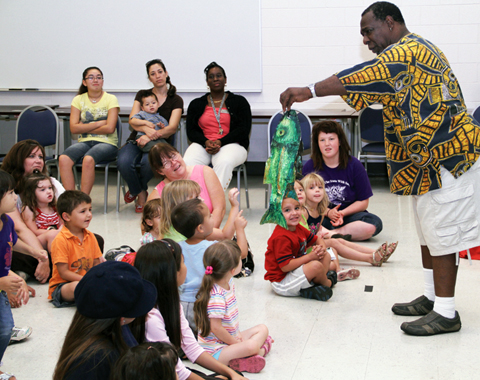 The Family and Child Education Center is sharing their space with the Southern Oaks Library, an entity of the Metropolitan library system, said Children's Programming Associate Librarian, Cheryll Jones.
The Southern Oaks library is now holding the Neighborhood Arts program in the FACE Center cafeteria.
The program is open to the community as well as the children enrolled with the FACE Center, Jones said.
Constance Pidgeon, Child Development and Lab School teacher, said the program is for children and adults of all ages.
She said the FACE Center is trying to make a connection with the community, and the arts program is helping with that.
The arts program offers a different interactive story, musical, or play from 3 to 4 p.m. each Tuesday, Pidgeon said.
"The show is very interactive and it is live," she said. "The children just sit with there mouths open."
Jones said the Oklahoma Children's Theater would present "Humpty Dumpty" by Lyn Adams at 3 p.m. Tuesday, July 19.
"I was so excited to see the FACE Center," she said.
"I am so glad they are letting us use that space. It is a great partnership."
Pidgeon agrees.
"The kids look forward to Tuesday so they can go to 'the performance,' as they call it," she said.
Three-year-old Kateleen said she likes the drums while Isabella, also 3, said, "The wolf scared me but I really liked the dancing."
Pidgeon said the children at the center are responding to the performances.
"The kids are so excited after one of the performances that we go back to the classroom and re-enact them," she said.
For further information about the FACE Center and the programs offered to the community, contact 405-682-7561.
For further information about the programs, contact the Southern Oaks Library at 405-631-4468.