Kids get their hands dirty while learning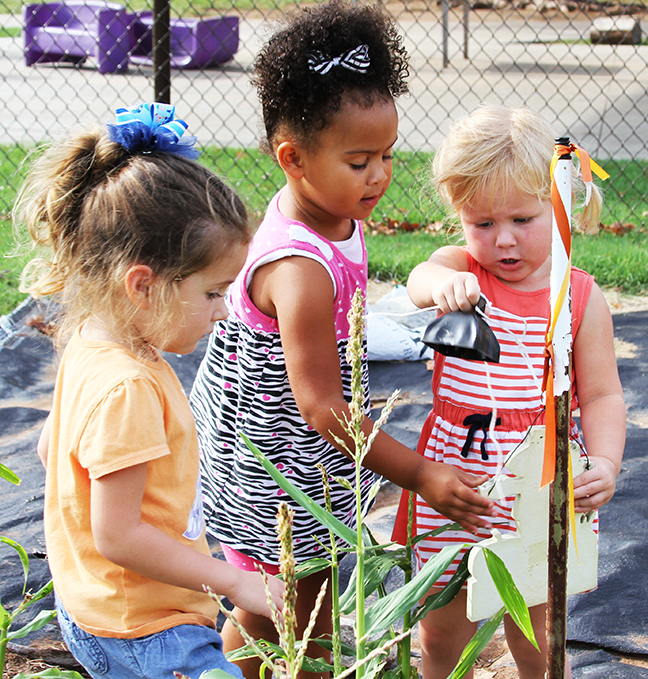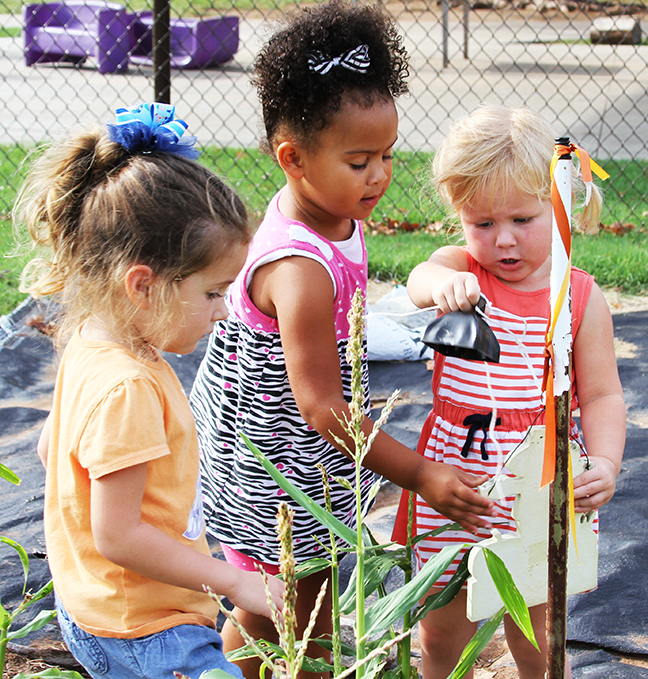 What do water, gardens, rocks, animals, bugs and babies have in common? A lot if you're a student at OCCC's Child Development Center and Lab School.
The center offers eight different classes for infants through preschool.
Each of the classes has a project approach, where the subjects they study are inspired by the interests of the children. Hands-on learning helps them learn said Preschool Lead Teacher Constance Pidgeon.
Water Study
Pidgeon's class, made up of 3- and 4-year-olds, has been studying the water cycle. Over the summer, the class planted a garden, she said, so learning about the water cycle seemed like the next logical step, she said.
"We were watering the garden so much, we kind of transitioned from the garden into the water cycle … ," Pidgeon said.
Lucy, 3, said she enjoys getting to water the garden and learn about water.
"We turn the water on and we get sweaty a lot and I get sweaty a lot."
While the main focus of Pidgeon's class is the water cycle, she said the garden still plays an important role.
"It gives them a chance to appreciate nature and to be a part of it and help caring for the Earth," she said.
The garden has corn, collard greens, mustard greens, radishes, carrots and pumpkins. Pidgeon said she hopes to turn the garden into a way to reach out to the entire school and even the surrounding community.
"What's really cool is when we produce something like the cucumbers and we take them from right outside the door and we bring them in and peel them and eat them right then."
Garden Study
Infant/toddler Assistant Teacher Sarah McElvaney's class is helping that goal become reality. Her class is currently learning about the garden.
Partnering with the preschool class has been a great experience, she said.
"We go out to the garden and take care of it. The kids pull out weeds and stuff."
McElvaney said at the infant and toddler age, children learn by doing hands-on activities, and the garden gives them the opportunity to get their hands dirty.
"The kids like stuff like that," she said."They love sensory activities when they get to dig in the dirt and plant seeds, and pull out weeds."
Rock Study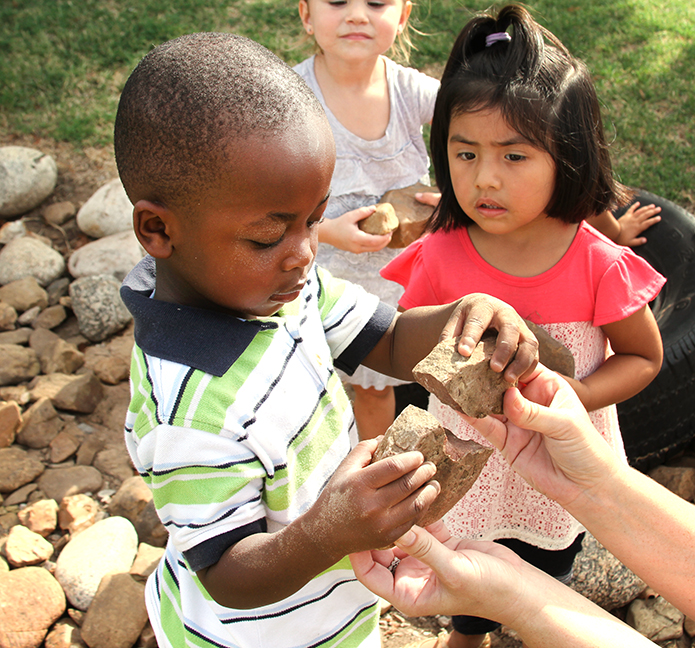 Lisa Jones, Preschool teacher, said her class will take a field trip around the building to learn more about their current project — rocks.
She said having resources that are nearby like the garden, or even the environment around the building, is a cheap, easy way to give the kids a field site study, which is a crucial part of project learning.
"We'll talk about what questions they have about rocks…," she said.
"We will call (in) an expert — a geology teacher from the main campus — to come in and answer their questions … ."
Jones said the field trip is just one part of all the different activities planned.
In the classroom, she said, the children studied rocks under magnifying glasses, painted pictures of rocks and even painted using rocks.
Liam, 3, said he liked the activities he got to do in class.
"I was painting rocks and drawing about rocks," he said.
Jones said after the children showed interest in a geode she brought to class, she knew rocks would be a great thing for them to study.
"We do go in-depth enough for them to understand what mountains are. They're rocks, they're made of rock. That the Earth is one big rock," she said.
"It's something very relative to their life. They love to play with rocks."
Bug Study
At age 3 and 4, anything that crawls, flies, or buzzes is a big deal, said Preschool Assistant Teacher Ursula Hudson. She said after observing the kids fascination with bugs on the playground, she decided studying bugs would captivate their interest.
"They just really, really enjoy holding them and looking at them, because we find them on the playground all the time," she said.
"They'll pick them up and put them in their hand and let them crawl all over."
The class recently watched the life cycle of a butterfly and released them outside on the playground. They will soon do the same with ladybugs.
"Once they hatch and they're big enough to go… they get to see the whole process of them coming out of the egg, and eating, and growing, and then they're adults and they can leave," Hudson said.
Mia, 4, was asked what her favorite bugs are.
"Ladybugs, because they have red and black dots," she said.
Hudson said the children do a number of other bug-centered activities such as reading books, making habitats and painting pictures.
Bird Study
Toddler class teacher Carrie Sitz said much like bugs, birds fly, and appear in numerous quantities on the playground.
Her class will often be caught looking out the window at the birds perched in the trees, Sitz said.
Because the children are young, and not as verbal, she said, finding something that interests all of them can sometimes be a challenge. Sitz relies on pointing and facial expressions to show what they need to learn.
" … They're always looking out the windows and seeing the birds," she said.
The children in the toddler class are talking about the different types of birds, different colors of birds, and watching birds.
"[We're] going to make bird feeders," she said. "We painted with feathers and we've painted with gummy worms. We're (also) going to bring some worms into the room in a container and let them observe the worms."
The children also made birds out of handprints to display on a bulletin board outside of their classroom.
Animals Study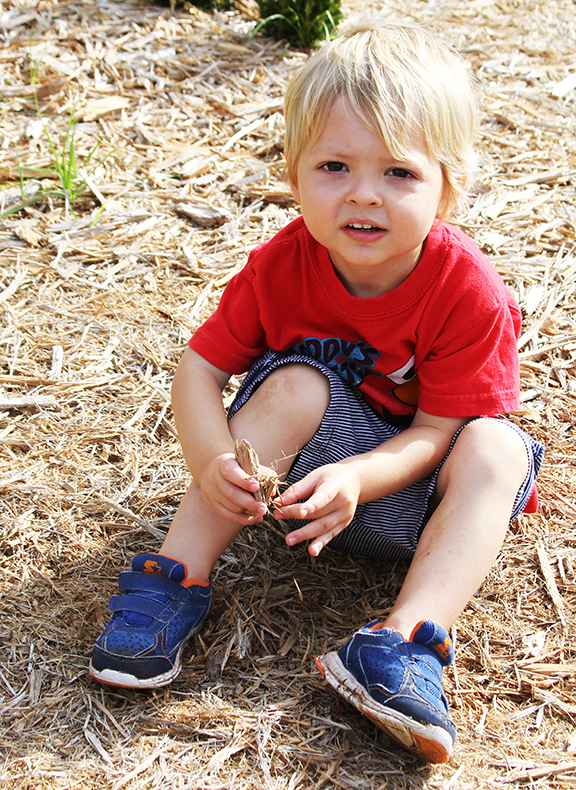 Ask toddlers what sound an animal makes and they can probably tell you, said Toddler Lead Teacher Amanda Widener, whose class is learning about animals.
"We have several that just talk about cows constantly, or they'll go find a book and bring it to us and say 'cow, cow, cow' or 'horse,' or whatever," she said.
The class will focus on farm animals first, then sea animals, and will finish the project unit with zoo animals.
Widener said the parents are given questions to review with their student for each type of animal. In the classroom, the kids will get to wash animals, read books, and even do some art-related activities.
"We'll talk about what kind of animals eat apples, because we're trying to do kind of a fall theme too, so a mini apple project, as well.
"Then we'll go into zoo animals in the classroom, and end it with a visit to the zoo on Saturday or something like that," she said.
Babies Study
Babies are the theme for one infant/toddler class, said Lead Teacher Heather Pierce.
"We've been studying babies, because one of [the moms] had a baby in July.
"Whenever she was pregnant, we started talking and they were really interested in baby dolls and what's going to happen when the baby gets here," Pierce said.
She said the children have been learning about feeding, rocking, and dressing babies.
Reading books about new babies and hands-on experience also has been a part of the learning process.
"We have a high chair in our classroom," she said. "I put wipe boxes and spoons and old formula containers and bottles … in the dramatic play area."
To wrap up the project, Pierce said, she will make a board that includes baby pictures of each child so they can see how they have changed.
Brushes Study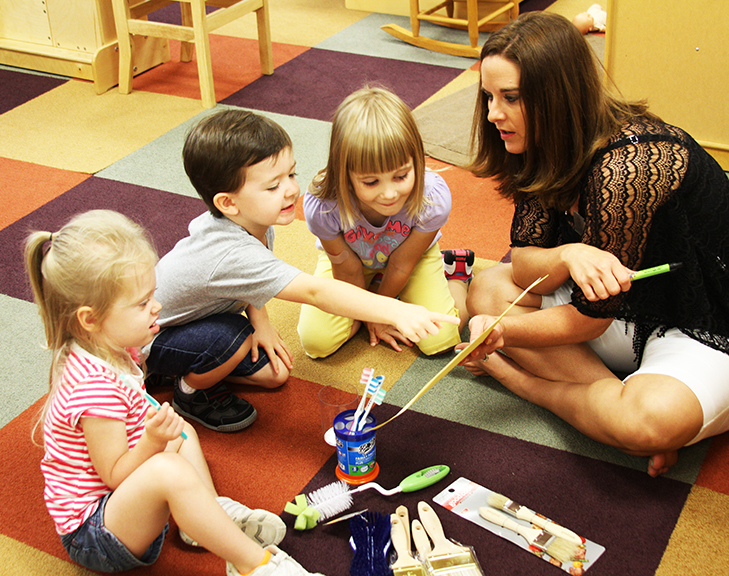 Art is a major part of a child's life during their developmental years, said Kendra Miller, preschool lead teacher.
She said after she observed the children carrying different types of brushes around the classroom and even using them while playing with Play-doh, she decided to do a unit project over brushes .
Miller said to get the process started, she had the children write stories about the various brushes and paint a picture to go along with it. She said the kids stay interested because it's something they want to learn about.
"We do the project approach [where] you … figure out what the kids know about it, what they want to learn about it," Miller said. "Then we'll have some visitors come in and talk to us about brushing our teeth and have an artist that will come in and paint a picture for us."
By the end of the unit, the children will be able to tell about the different types of brushes and their functions.
For more information about the Child Development Center and Lab School, call 405-682-7838 or visit www.occc.edu/childdev.