Great American Smokeout encourages smokers to quit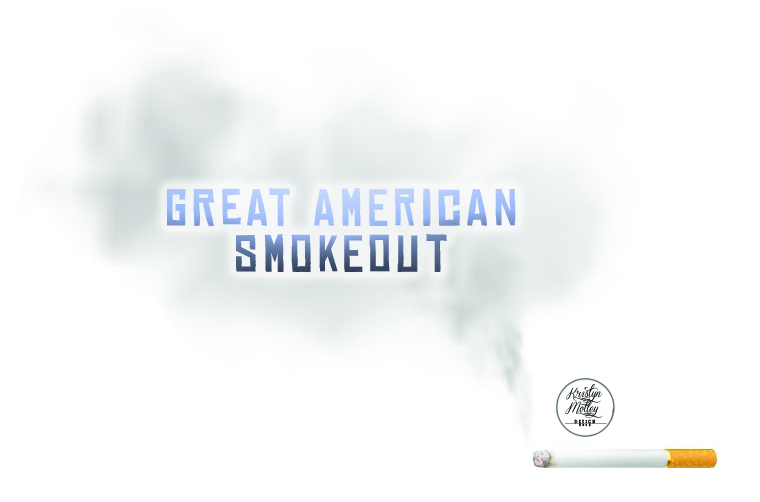 Tobacco use is the single largest preventable cause of disease and premature death in the U.S., according to the American Cancer Society (ACS).
However, this year millions of tobacco users will commit to stop smoking during the Great American Smokeout — a day the ACS devoted to encouraging people to quit smoking.
ACS Communications Manager Tracy Guara said the day is held the third Thursday each November to help kickstart a healthier lifestyle, which lands on November 19 this year.
"We find that people who stop smoking before the age of 40 cut their risk of dying in the next 15 years in half compared to those who keep smoking," Guara said.
Guara said the first Great American Smokeout was held in November 1976 in California and nearly one million smokers quit.
"When society as a whole saw how successful that program was in California, they decided to take it nationwide the next year," she said. "From then on, it has dramatically helped change Americans' attitudes about smoking."
Guara said when smokers are trying to quit, they can get support by calling the American Cancer Society at 1-800-227-2345, 24 hours a day, seven days a week.
She said some of the tools smokers can use to quit are nicotine patches, telephone- and online-based programs and support groups. For a list of local cessation groups, visit http://www.secondhandsmokesyou.com/smoking-cessation/Oklahoma-City/services.html
Guara also said the ACS created a free phone app, called "Quit for Life," which is available on iTunes and Google Play. She said the app provides a step-by-step cessation plan, which provides quitting tips and tracks the amount of money saved by not smoking and.
According ACS, today about one in five U.S. adults smoke cigarettes (around 43.6 million people). Cigarettes are responsible for nearly one in five deaths in the U.S. There are 8.6 million people living with serious illnesses caused by smoking.
Smoking directly causes cancers of lung, larynx, mouth, sinuses, pharynx (throat), esophagus (swallowing tube) and bladder, and indirectly caused the development of cancers of the pancreas, cervix, ovary (mucinous), colon/rectum, kidney and stomach.
Jennifer Damron, physical therapist assistant major, said she started smoking when she was about 19 years old but later quit smoking when she became pregnant. She didn't smoke for four years.
"For me, it was kind of easy to stop because I knew I got pregnant and I don't want to hurt [my daughter] at all," she said. "When you're pregnant, it doesn't just affect you, because the smoke goes to the baby too."
However, she picked up smoking again because of stress, but she said she is trying to limit the number of cigarettes she smokes per day.
"Right now, I just try to only have one if it's a really stressful (day) …," she said. Though Damron said she is not an adviser, she wants to tell people who are young to stay away from cigarettes.
"Just don't start," she said. "Find other ways if the stress makes you want to [smoke]. Maybe find some other activities, exercising, swimming or whatever may help you."
As well as firsthand smokers, the American Cancer Society states many non-smoking people are subjected to secondhand and thirdhand smoke.
Secondhand smoke is also called involuntary smoking or passive smoking. Secondhand smokers take in nicotine and toxic chemicals by the same route smokers do.
According to the 2014 Surgeon General's Report, there have been 20 million smoking-related deaths since 1964. About 2.5 million of those deaths were among non-smokers who died from exposure to secondhand smoke. Nearly 100,000 babies have died in the last 50 years due to parental smoking (including smoking during pregnancy).
Emergency Medical Technician major Jonathan Bentley said smoking was the reason he only saw his grandpa two or three times each year. His dad did not want him to face the ill effects of secondhand smoke.
Bentley said his grandfather was not able to quit smoking even after he was diagnosed with lung cancer.
"All the doctors told him,'if you keep smoking you will die,'" Bentley said. "He didn't care."
Bentley said he doesn't want to become a smoker because he had experienced about how negative effects from smoking caused to his grandfather's life.
"I feel like if a non-smoker sees someone smoking, they kind of turn their nose up, and [the smokers] will distance themselves from [society]," he said. "The same thing with drinking, I saw the effect it has on my grandpa and I don't want to be like that [for] my kids or people around like my friends."
According to the Mayo Clinic, there is a third type of exposure to toxic smoke. Thirdhand smoke is residual chemicals that are left on indoor surfaces by tobacco smoke.
This residue will react with common indoor pollutants to create a toxic mix which contains cancer-causing substances, posing a potential health hazard to nonsmokers who are exposed to it, especially children.
Thirdhand smoke clings to hair, skin, clothes, furniture, drapes, walls, beddings, carpets, dust, vehicles and other surfaces even long after smoking has stopped.
Research from the American Academy of Pediatrics found 43 percent of smokers (65% of nonsmokers) believe thirdhand smoke causes harm to children.
Nursing major Brendan Koester said he doesn't think thirdhand smoke is as threatening as secondhand smoke, but it is still a concern.
"I don't think many people experience as many side effects, or come down with it as hard as secondhand smokers, but it's an actual thing," he said.
Koester's stepmother, a longtime smoker, tried to stop smoking after undergoing a surgery, but only lasted about a week.
"Her reasoning — her excuse — was that it was too much stress put on her," he said. "So with that stress she needed something she could fall back in that would help her calm herself."
He encourages smokers who are attempting to quit to keep fighting the addiction.
"For those who are trying to quit, my advice would be don't quit on trying to quit," Koester said. "Even if you have a minor relapse, still continue that fight because it helps not only yourself, but the others around you."
For more information about the Great American Smokeout, visit http://www.cancer.org/healthy/stayawayfromtobacco/greatamericansmokeout/.