Former student brings slice of life back from China
Paintings from China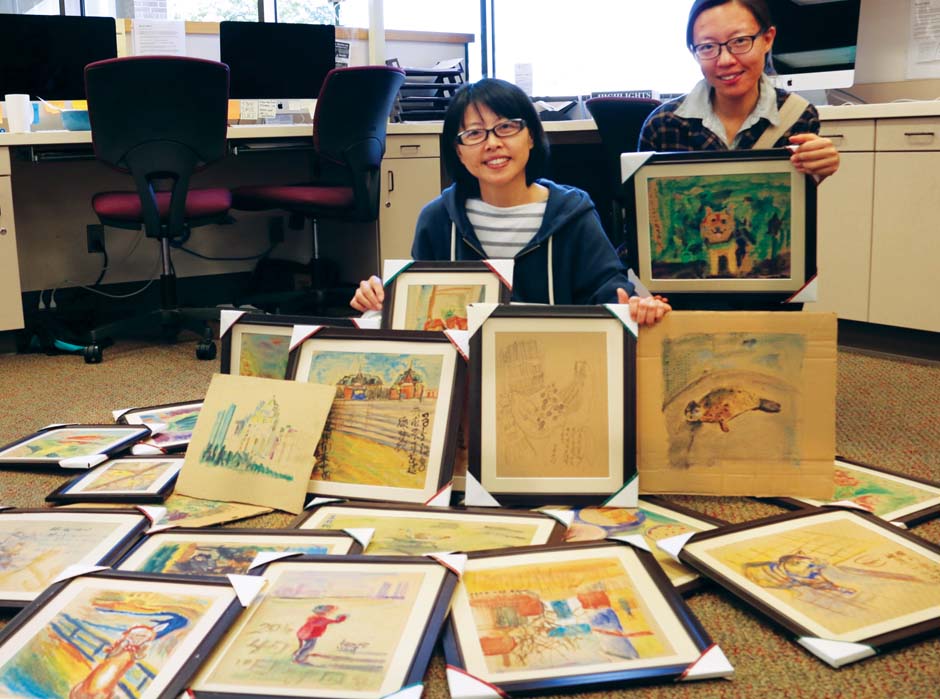 A former international student from China, Chenyi Wang, and her mother Li Wang paid an unexpected visit to the Pioneer office on April 21.
Li Wang, though slight and not much taller than five feet tall, hefted with her a large hot-pink suitcase.
Within the suitcase were 20 paintings. She said she chose the 40 pieces she feels are most impressive out of the more than 2000 collected over the last year from children at her school in China.
Li Wang has been working as an art teacher at a Chinese primary school for 20 years.
Together, she said, they want to share the beauty of Chinese daily life with Americans through paintings.
"People go to work or do stuff every day and they usually ignore how beautiful the life around them is." she said, "I believe that everyone can find the meaning of life after seeing those paintings and realize the value of art."
"I am trying to find a room to show my students' painting to American people. I am looking for a sponsor or a cooperator," she said. "This is my first time coming to America, so my plan is to knock on every door and introduce my plan and paintings."
She said she was hoping to find someone on campus who might help her showcase the paintings.
Li Wang said she would like to sell all of the paintings to raise money for a guide dog organization in China. She said each painting might cost only $5-$10.
Chenyi Wang said "The money will be contributed to dog food, dog shelter and for other facilities for guide dogs."
They returned to China on April 27 and Chenyi Wang said they will continue fundraising there.
Chenyi, unlike many international students, decided to return to China after receiving a bachelor's degree from Oklahoma City University.
She works now as a translator for a Korean company in Dalian, China.
Chenyi said she was excited by the opportunity to fulfill another goal by taking part in one of Oklahoma City's most well-known yearly events – the Oklahoma City Memorial Marathon which took place on April 24. This, she said, is her main reason for returning to Oklahoma.
"I wanted to be a part of the event." Chenyi Wang said, "I am a local runner in my hometown back in China. I knew about the Memorial Marathon online and I wanted to join because I believe that humans are born to run."
She said she still thinks of OCCC as a well-rounded school with a broad range of subjects. She was happy to bring her mother to see the college.
"The site reminds me of what broadened my horizons and that nothing should be taken for granted," she said.