Food for thought – OCCC cafeteria working to offer foods that are better for students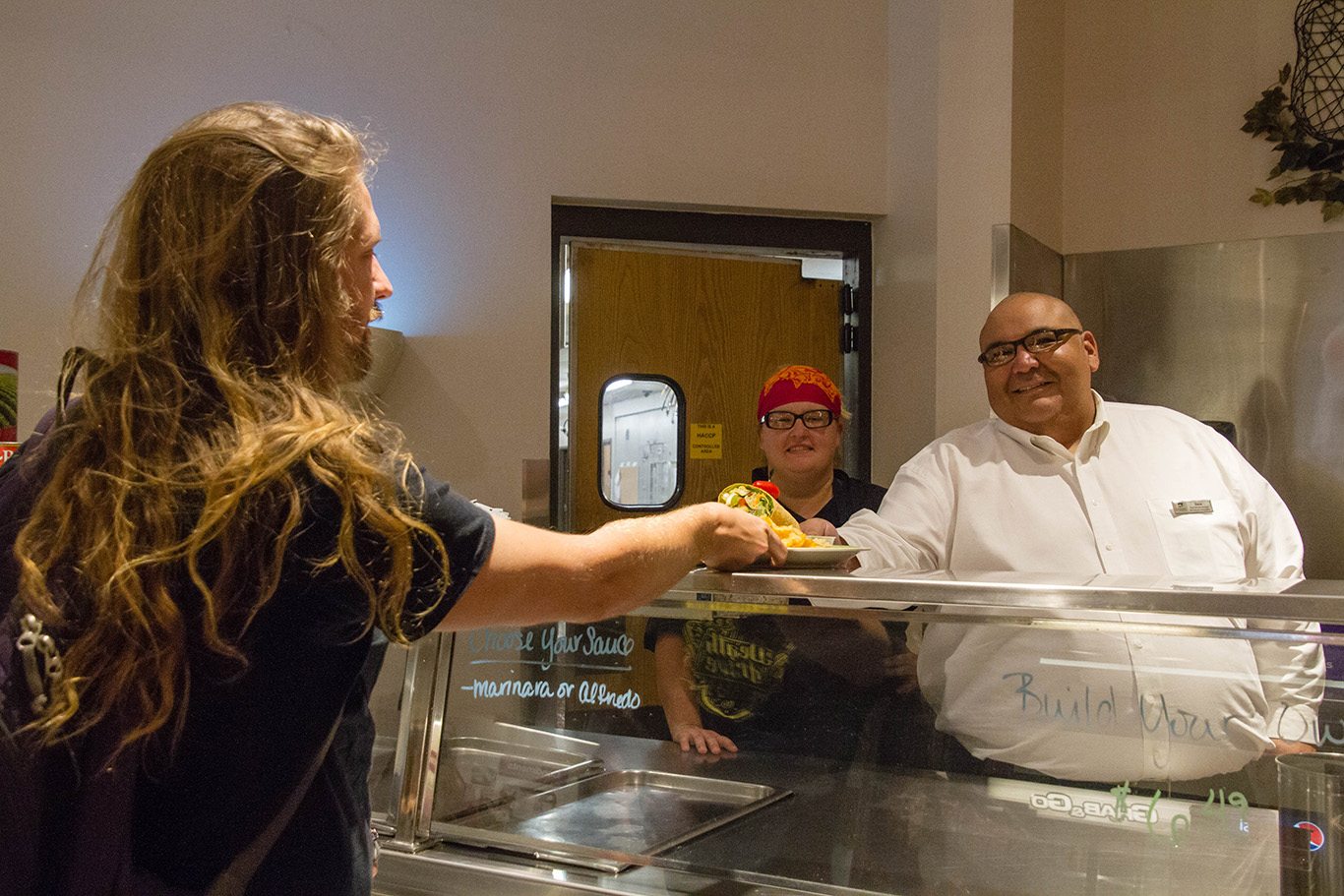 Though most college students don't receive the recommended four and a half to five servings of fruits and vegetables a day, Oklahoma City Community College Cafeteria, Food Service Director Dave Cordova is working on a turnaround.
The cafeteria is branching out with more organic, cultural, and locally grown foods, Cordova said.
"We are trying to offer healthier options," he said. "The management before me may not have offered healthy food, but that is something I am trying to change."
Students may soon see more weekly specials that include a grilled chicken caesar wrap, grilled veggie wrap with hummus, a veggie pizza, or a grilled veggie panini.
Cordova said he wants to give students more of a restaurant feel when they order from the cafeteria. He said the food should be more representative of the diverse culture on campus so he is working to bring traditional dishes from other cultures to the menu.
For Hispanic Heritage Month, Cordova has panned out a whole menu featuring authentic Hispanic foods such as tamales, chimichanga with cilantro rice and beans and street tacos.
Cordova is not only adding new items to the menu, but also trying to perfect the menu.
"We plan on incorporating a stir fry station and a pasta station. The things we did in the past that were successful, we are going to bring those back," he said.
Cordova said the new items on the menu require some changes in the cafeteria's purchasing.
"We are working hand in hand with our produce company, Fresh Point Produce, to bring in more Oklahoma produce. We have a lot of things grown within the state, things like organic lettuces for the salad bar, different types of micro-greens, and maybe even made-in-Oklahoma burger patties," Cordova said.
A recent report in the Journal of Nutrition and Education Behaviors showed that more than half of all college students in America experience food insecurity which leads them to seek out cheaper and less wholesome foods like those offered at fast food chains.
Still, some OCCC students have voiced concerns about the costs of the cafeteria's new menu.
The Leadership Council Chair, Derek Scarsella said healthy options from the cafeteria's menu are too expensive.
"It's almost $10 dollars for soup and salad," she said, "For college students, especially at OCCC, that's an impossible fee.
TLC is a student elected representation of the student body here at OCCC. Clubs and organizations select students to represent their club. TLC meets once every month to address varying campus topics.
TLC student leaders have discussed the topic of healthy foods and their prices.
"The main concern that we have discussed has been mostly budget related, because that has kind of been the theme of this year," Scarsella said.
She said the TLC board reviewed the prices and believe the prices "are not very realistic for the student body," since most students attend OCCC because of the lower cost.
"So for TLC we normally meet every other week and we feed our attendees lunch. This semester we are having to drop down to feeding our attendees once a month, because we can't afford the price of the food," Scarsella said.
Psychology major, Linda Pope said she thinks the cafeteria tries to give students what they want, but she thinks more vegan options should be available since the cafeteria is trying to appeal to all the students.
Cordova said the cafeteria is ran like a business and it has to be maintained like a business.
"Prices are always going to be a concern, that is just part of life," he said.
Cordova said he is always comparing prices to other food companies, and he tries to set the cafeteria prices at a conventional price.
"OCCC also buys their food in smaller batches, and serves fresh veggies, fruits, and meats opposed to the surrounding fast foods. So it may be pricier than the fast food chains, but the food is a lot more wholesome," he said.