Employees on the ready for disaster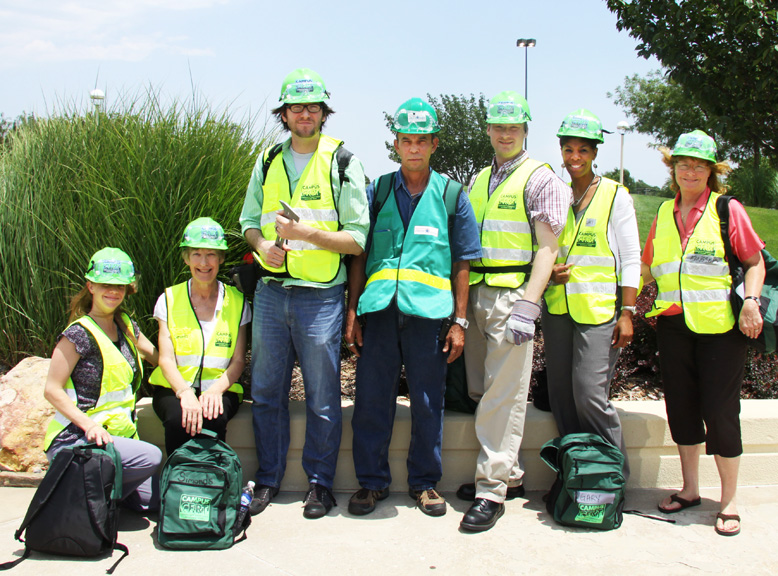 Robert Bolton/Pioneer
OCCC employees pose for a class picture after completing training for the Campus Emergency Response Training Team. Thirteen workers took part in the federal-sponsored program. Those included, from left to right: Gina Perry, Pam Simonds, Brandon Isaak, Michael Barber, Virgil Teter, Cynthia Gary and Sheri Kingsbury.
OCCC recently trained 16 employees to be ready for disaster.
The Federal Emergency Management Agency, and the Department of Homeland Security sponsored the Campus Emergency Response Team training June 1 through 3.
Participation was completely voluntary for the training, though participants had to be chosen to take the class.
"We chose certain positions around campus to be floor captains, and asked if they wanted to take the classes," said Emergency Planning and Risk Management Director Lisa Teel.
The goal of the class was to prepare people for emergencies, she said.
Many times, Teel said, if there is a catastrophic disaster, first responders might not get there immediately.
"We wanted to make sure that we were self-reliant; to have people trained so they could help out immediately," Teel said.
"You need to be able to rely on yourself."
Those who opted to take the course were trained in how to respond to catastrophic emergencies.
Training included basic emergency awareness skills, search and rescue, triage, first aid, cribbing and shoring, and learning how to put out fires both inside and outside of a building.
The CERT checklist for search and rescue is a nine-step process, Teel said. She said it includes fact gathering, damage assessment, considering probabilities, situation assessment, establishment of priorities, decision making, plan development, action, and progress evaluation.
Participants received a backpack with emergency supplies.
OCCC Finance employee Sheri Kingsbury said she enjoyed the course.
"It was very informative," Kingsbury said. "I'm looking forward to more training,"