Cultural food fair worth $6 admission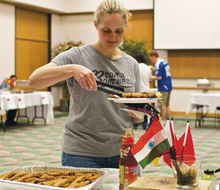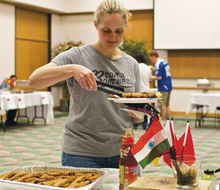 Chris James/Pioneer
Amanda Parker, biology lab assistant, samples foods from different cultures at the OCCC Cultural Food Fair on March 5. The event was put together by the International Students Association (ISA).
This year's Cultural Food Fair, hosted by the International Student Association, was just as interesting as last year, though the festivities were put in separate areas.
It cost $6 to get in the door to the food area, and all four walls were lined with tables. Each table had food from a different part of the world. There were students from just as many different places not only manning the tables, but also visiting and loading up on food.
In the greater dining area, students and professors talked about the countries they were from.
World Languages and Cultures Center Lab Coordinator Chiaki Troutman talked about her home country of Japan, and how the OCCC student support after the massive earthquakes really touched her.
The life experiences really made the trip to the College Union a lot more interesting and informative than the usual trip and complemented the reason we were all there — the food.
The lumpia, a Chinese dish, had a heavy pork flavor and was weighed down with grease but was delicious, and tasted like a spring roll that is bad for you.
The India curry was almost completely bland, save for a tiny hint of sweetness. It was overshadowed — on the spice scale — by the rest of the Indian food that was represented.
The Chinese fried rice was really good and I caught a bit of sweetness in addition to the spiciness. The very thin slices of meat were a good addition.
The sushi was extremely lacking, as there was little of everything save for cream cheese, which overpowered the entire roll.
The South Korean noodles were incredible and contained chunks of mushroom and steak. I could have eaten a large plate of it and been happy.
There were Turkish meatballs, that tasted spicy, meaty and were really good without the sauce, but the sauce that came with it added just a bit of sweetness to the entirety of the meatball. It was beautiful.
There was a dish that was made of fried plantains and chicken. Plantains are related to bananas, but have a thicker, starchier taste, but are extremely sweet. I didn't get any chicken from it, but I caught hints of meat on the fruit, which gave it an interesting flavor. It was very tasty.
Last of what I experienced was a South Korean eggroll. These eggrolls weren't like the ones you see in Chinese restaurants but were more like omelettes that were rolled up with various spices, then sliced into thin sections. They were wonderful, and made good use of the egg.
I think the cultural food fair was a great success yet again, and am looking forward to the next one.
Rating: A
—Robert Bolton
Community Writer
To contact Robert Bolton, email communitywriter@occc.edu.