College plants 46 trees to enrich the landscape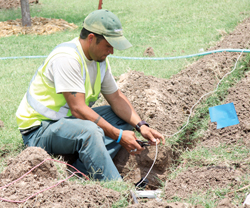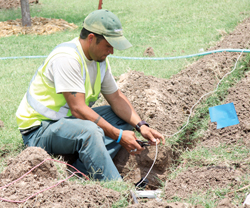 David Swinford, TruGreen employee, works on the electrical aspect of the sprinkler system.The sprinklers will help irrigate the newly-landscaped areas on campus. Forty-six trees were recently planted, funded by a citywide landscaping project. (Jennifer Pearsall/Pioneer)
The OCCC campus is more beautiful because of 46 trees and bushes planted on campus recently by Facilities Management staff, said Facilities Management Director J.B. Messer.
The tree planting is part of the $250,000 Arts Festival Oklahoma Landscape Improvement Project.
The trees, shrubs and perennials were planted in the northwest portion of campus, near the Visual and Performing Arts Center, and include 11 Lacebark elms, three live oaks, and 32 Shumard oaks.
"It's really pretty over there," said student Ashly Allen. "It looks great."
"We are making this site so we can use it for many different types of events year 'round," said Messer.
He said the $250,000 project was needed because Arts Festival Oklahoma was previously held where the VPAC now stands.
Arts Festival Oklahoma is an annual event held on campus showcasing local artists and their work.
The new site will better meet the campus's needs and will offer improved landscaping, Messer said.
In addition to the plantings, he said, the college improved the electrical and irrigation systems in the area.
The college will continue to add to its landscaping initiative by planting 58 more trees along the west side of campus bordering I-44, Messer said.
The project will start later this month as part of the Spring 2010 Tree Planting Initiative intended to further beautify campus grounds.
"When students look at colleges' scenery, it's a big factor. I love trees and I think planting more is a great idea," said pharmacy student Joren Cummins.
Some of the trees used in both projects are from the college's tree farm on the southwest corner of campus, Messer said.
He said the tree farm has more than 1,000 trees, including bald cypresses, elms, maples, and evergreen varieties.
The tree farm, started 10 years ago, has provided trees for several campus improvement projects including the walking trails, Messer said.
To contact Christian Kosted, email onlineeditor@occc.edu.