Coffee shop blends services well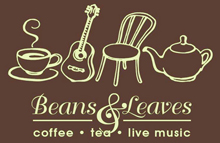 Finding a relaxing coffee shop can be difficult. Many coffee shops are either tiny or seem pretentious to newcomers.
Beans and Leaves, near NW 39th and Penn, is the alternative to the cramped coffee shop.
The restaurant itself is cozy and spacious. There are several tables for those who want to study and many armchairs for those who just want to relax with a cup of java.
The selection of treats changes, but cookies tend to be a constant.
My favorite are the chocolate chunk cookies, which have just a hint of nutty flavor.
If you're lucky, you can have the blackberry cheesecake which has a layer of blackberry sauce on top. I've also heard several people rave about the key lime pie.
The drinks are delicious as well. Last week I tried the black and white, a drink combining white chocolate, dark chocolate, and espresso.
It was loaded with whipped cream and tasted like a fine hot chocolate with just a hint of coffee.
If you're looking for a cold drink, try the jasmine lemonade. On first sip, you may get the slight bitterness of jasmine, but it's immediately canceled out by the sweet and sour of lemonade.
Beans and Leaves also promotes local art. Once a month, a different artist gets his or her work put on display.
Friday nights are live music nights, and several open mic and poetry groups gather as well.
But what really makes this restaurant is the staff.
Gary, the owner, will ask his customers how their day is going while he's making their drinks, plus go around the restaurant asking if anyone wants another drink and taking away trays after you're finished.
He really cares about his customers.
Rating: A+
—Mary McAtee
Staff Writer
To contact Mary McAtee, email staffwriter2@occc.edu.