Children in kids summer theater camp act out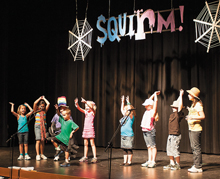 Chris James/Pioneer
The Itsy Bitsy Spider, Mathew Lind, climbs up the water spout in the OCCC College for Kids production, Squirm, on June 22 in the Bruce Owen Theater. The play was about creepy creatures like snakes, spiders and worms.
College students aren't the only ones learning theater arts and performing in OCCC's Bruce Owen Theater. Over the summer, OCCC hosts Kid's Theater Camp for local children.
Director Jay Ferguson said the program is divided by age group into three different camps that have roughly 30 kids each.
Kids of all interest levels attend.
Some have natural talent and are used to a stage setting, while, for others this is the first time.
Ferguson said that the first camp, for children in first through third grades, worked on a musical about bugs called "Squirm."
Chris James/Pioneer
Black Widow, Mackenzie Cooper, performs A Spider Song in the OCCC College for Kids production, Squirm on June 22 in the Bruce Owen Theater.
"Squirm" was performed June 22 in the Bruce Owen Theater to a packed auditorium. The production was entertaining, but was kept simple for the young children performing.
The second camp was for kids in fourth and fifth grades, and they worked on the production, "Pirates!"
"Pirates!" had scene changes and other more complicated theater elements than "Squirm." "Pirates!" was performed June 29 in the Bruce Owen Theater.
Both shows were open and free to the public.
Camp number three is two weeks long, rather than one, and will be for middle school kids, Ferguson said.
The camp runs July 16 through July 27. The third group will perform "Seusical."
"This is a natural extension of what we do," Director Cristi Miller said. "We want them to appreciate music theater and love doing it."
Aside from theater activities, Ferguson said they work in regular camp activities like playing in the gym, music games and related activities, swimming and watching movies themed with the production that particular camp is working on.
Ferguson said the cost of the Kids Theater Camp is very affordable.
The summer Fitness and Enrichment catalog lists "Pirates!" and "Squirm" as only $125 per week and "Seusical" is $225 for two weeks.
Ferguson said that is cheaper than day care, and programs like it elsewhere can cost twice as much.
Miller said that its great for OCCC to provide this service for the community. For more information, contact Coordinator of Community Outreach and Education Brannon Dressel at 405-682-1611, ext. 7205.
To contact Chris James, email pioneerphotog@occc.edu.