Carson's breakfast bar a rousing success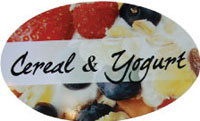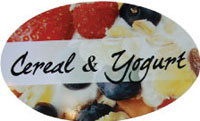 You've probably never heard the words "healthy eating" and "school cafeteria" uttered in the same sentence — until now.
Last month, Carson's Catering debuted a cereal and yogurt bar, the first of its kind in a lunchroom otherwise plagued by greasy goods and fried feasts.
The new fare is pretty hard to miss. Where the rotating pretzel machine once stood, a large oval sign hangs chained from the ceiling, bearing the words "Cereal & Yogurt," backed by a picture of scrumptious-looking berries and granola bits.
Beneath this sign, customers are presented with a literal cereal bar — dispensers of six different kinds of cereal lined up in a row — and a mini fridge.
Unlike single-serving cereal cups that are generally full of sugary standbys like Cinnamon Toast Crunch and Cocoa Puffs, these dispensers give six mostly healthy options to choose from: Kashi oats, gluten-free Chex Mix, both original and honey-nut Cheerios, Nature Valley granola and Lucky Charms.
The dispensers work much like a pop machine. For $1.79, you can pick up a 12-ounce plastic cup, and then use the levers to pour as much cereal as you would like.
Included in that price is a topping of your choice, and there is a small selection of options to choose from. Healthier choices include raisins, cranberries, mandarin oranges and coconut flakes.
For those with an aching sweet tooth, you can also grab mini marshmallows or chocolate chips in a serving size that is perfect for quelling your inner chocoholic without downing an entire Hershey bar.
And if one topping isn't enough, never fear — you can tack on additional cups for 35 cents a pop. That number seems a little pricey for such a small serving, but a cup of cereal with an extra topping still comes out cheaper — and healthier — than breakfast burritos, and biscuits and gravy.
To the right of the cereal line, the mini fridge offers 60-cent pints of fat-free and two percent milk, as well as cups of Dannon Light & Fit yogurt for 95 cents apiece.
The real heroes of this story, however, are the yogurt parfaits. Well worth the $2.50 price tag, the parfaits are comprised of layers of vanilla yogurt, fresh strawberries and blueberries, and topped with a veil of granola.
The result is a delicious, healthy, filling breakfast — or even a great midday pick-me-up between classes.
As little as two months ago, it seemed the only semi-healthy options for students were the pricey salad bar and a few of the equally expensive sandwiches.
Now, however, we can walk into the cafeteria with the knowledge that we can treat our bodies to something healthy and yummy without breaking the bank. Kudos to Carson's for giving us that feeling.
Rating: A+
To contact Whitney Knight, email onlineeditor@occc.edu.