Car crashes into wall outside VPAC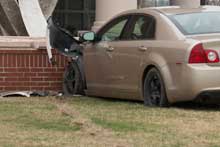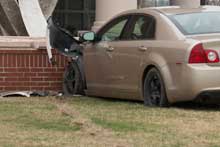 (Tuesday, March 31, 2015): An unidentified woman was transported to a nearby hospital after she crashed into a short brick retaining wall outside of the VPAC theater earlier this morning.
A stretch of skid marks over a campus sidewalk trails into torn ground, toward the now damaged brick wall just outside the main theater entrance after the woman's Chevy Malibu crashed into it headlong.
The car's driver was transported by EMSA to Integris Southwest Hospital with undisclosed injuries according to Campus Police Chief James Fitzpatrick .
The front of the vehicle was badly damaged and the air bag deployed.
The side of the wall facing the parking lot was broken in the crash — some of its bricks black with paint, transferred from the car's grill .
Directly on the other side of the wall stands a large, metal sculpture.
Beyond that, the glass entrance to the theater lobby.
Both were untouched. "There was one other vehicle involved and that young lady had no complaints of injuries," Fitzpatrick said. However, he said, the other vehicle did sustain damage. "The rearview mirror's gone and it's got a nice kiss on the front left side forward there," he said .
"It looks like it's been sideswiped." Fitzpatrick said he did not want to speculate as to the cause of the accident, leaving that for the official report yet to be filed by campus Police Officer Zachary Andrews, who is working the case. Campus police investigated the scene of the accident and worked with Oklahoma City police officers to retrieve data from the Malibu's internal computer .
The car was towed from campus. Fitzpatrick said this is the second incidence of a car that has "hit a building" on campus while he's worked with OCCC .
Official reports as to the cause of the accident and the condition of the injured driver have yet to be released .
College officials have not yet assessed the cost of the damages to the college. The Pioneer will update this story as details develop.
To contact the writers of this story, email onlineeditor@occc.edu