Campus Bystander Intervention: "Not Doing Anything Isn't Going To Help Anyone"
What would you do if you were a nearby witness to a heated exchange between individuals that escalated into violence? What could you do to diffuse the situation and prevent a violent act from occurring?
On Wednesday, March 28th, Oklahoma City Community College hosted Bystander Intervention, an open discussion about what each of us can do to prevent violence and change our culture.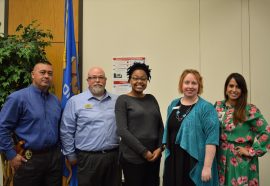 This event provided the chance to learn different ways to intervene in certain situations and gave students and faculty the opportunity to ask questions and discuss with distinguished experts.
The panel of experts discussed their areas of expertise in the subject of violence prevention and also expanded on situational options.
Michelle Stansel is the Rape Prevention Coordinator for the Injury Prevention Service Office at the Oklahoma State Department of Health. Stansel defined, being a bystander as being a witness to a crime.
Stansel believes bystander intervention brings about a positive impact by being supportive and empowering people to find a voice.
However, "we choose to be passive or proactive," Stansel said. There are various ways and actions to take to diffuse a situation.
Rachele Eskridge, the Director of Prevention Education for YWCA Oklahoma City explained four ways to interject, called the four D's. The four D's include: direct, delegating, distraction, and delayed intervention.
In direct intervention you can be direct when confronting a situation where someone else is being harmed or at risk of being harmed.
Delegating intervention is letting someone else such as a friend, safety official, a manager, or someone you feel comfortable with know what is going on and voicing your concerns for the situation or the individual involved. You are simply looking for other people to back you up when it is time to intervene.
In a situation that involves more than one person, you can also distract one or both people involved. In a fight, this can allow people to cool off, and in cases of sexual violence, it can create an opportunity for the potential victim to get away.
If you feel like you missed an opportunity to intervene, you can use a delayed response. For instance, following up and asking if someone is okay after the fact.
The four D's are not limited for campus use; it can also be utilized anywhere like on the streets, in the club, at stores, etc.
"Bystander intervention is something we have to take seriously," Austin Slaten, the training officer for OCCC campus police said. "I think it's time to step up and get involved."
Slaten explained anytime we see behavior that seems out of bounds we need to address and report it.
Fortunately, OCCC has great resources in receiving help for these sorts of situations. The Campus Police Department is located on the first floor and is continuously staffed during all building operating hours. The Campus Police Department is the immediate point of contact to report criminal behavior or for any other emergency on campus. They are here to hold the responsibility to provide a college environment that is both safe and secure.
To ensure safety at OCCC there are multiple emergency call boxes on campus and even a downloadable app. OCCC Shield is a free safety app that enables students to reach OCCC campus police almost immediately. OCCC's website shows the app also has several other safety features like ireports, non-emergency services contacts, friend watch, and personal profile. The app is also said to be a great way for safety officials to get information.
Case manager of the OCCC Behavioral Assessment Team, Chris Shelley, thinks it is important to educate yourself on the resources you have.
It is beneficial for students and faculty to know the safety options provided on campus to understand where to go and how to obtain help for themselves and others Shelley said.
Intervening is greatly urged but, in some situations, we may have to hesitate before acting. Slaten advised in any sort of situation make sure not to compromise your safety or make the situation worse.
Learning and understanding bystander intervention can have positive outcomes for yourself and others involved.
A current student and University of Central Oklahoma SPEAK advisor, Na'eemah Phanelson, shared how much she enjoys training and learning about bystander intervention, it has made her a more confident person.
All the paneled experts encouraged being aware of situations, speaking up, and getting involved.
Shelley said, "Not doing anything isn't going to help anyone."