Ankle boots great for all outfits, fashion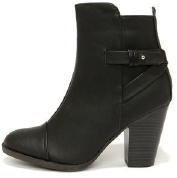 I'm not much of a shopaholic like my girlfriends. I seriously hate going to the mall. And when I go shopping, I know exactly what I'm looking for, so I'm in and out.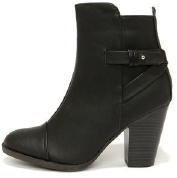 But one store I can always count on for cute shoes and a good deal is Charlotte Russe. I'm always looking to save some money; you know the whole broke college student life.
During Christmas break I decided it was time for a new pair of boots so I drove to the mall, and went to Charlotte Russe. They were having a buy one, get one for $8 on all shoes and jeans! Seriously, I felt like a kid in a candy store.
I think I tried on 15 different pair of shoes, from long boots to high heels to booties. The store worker was really nice and patient with me. They always are. That's another reason I like going to this store.
After an hour of looking at shoes, I decided to purchase light brown ankle boots. I liked the two zippers on each side giving them a different look. I wear them all the time. They're really comfortable and match a lot of my wardrobe. You can dress them up or dress them down.
Because of the great deal, I had to get a second pair for $8. They're black booties, simple and classy. They have a black quilted design on the back. The heel is low and chunky making them easy to walk in. I usually wear these for church on Sundays.
Remember how I said I was the worst at making fashion decisions. Well, I went ahead and bought a third pair of shoes and got jeans for $8. I took advantage of the great deal.
I have to admit I haven't worn the brown knee high boots since I bought them. I just haven't found the perfect outfit for them yet.
But the jeans I love. They're boyfriend jeans with rips on them. I think they're super stylish.
I walked out of the store with three pairs of shoes and jeans for $112. I saved 50 bucks. Charlotte Russe is great store to check out if you're looking for a great deal.