Zumba a workout from head to toe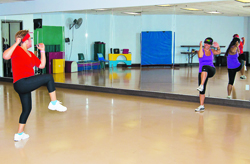 Any OCCC student interested in working out and getting fit without all the weights and equipment may want to try the Zumba fitness class, said new Zumba Instructor Rhonda Dunn.
Zumba, for those that don't know, is one of the most renowned fitness exercises due to the fact that it revolves around one thing: dancing. Dances that are from cultures from all over the world.
"It's a dance cardio class that incorporates all of your body. So, you're working all of your muscles in your whole body. The idea is to have the participants focus on fun, and try to get them thinking about the dance and the fun of that, which takes their mind of the work of it," said Dunn.
The class is heavily influenced by Latin America music, but Dunn says there's music and dances from all different cultures.
"It's Latin based so there's a lot of Latin music, but there's also many other genres. There's merengue, there's salsa, there's samba, reggaeton, bachata, and bangara to name a few."
These different styles of music are integral in Dunn's class, with each exercise centered around a certain style of music, usually depending on the speed of the music itself.
"The dances are based on the music so we match the dances to the style of music."
"They come in and we warm up on a type of song that's not as fast and then we gradually build it up with faster music. Then, we have the cooldown at the end," said Dunn.
While Dunn believes the idea of dancing can be intimidating to students that may never have tried it before, she believes the way she instructs her class gives newcomers a perfect opportunity to test out their moves.
"In my class, I announce in the beginning, before we start each song and pattern, that I'm going to make it small. Then, I'll ramp it up. But, they don't have to ramp it up if they don't want to. You can go at your own pace. You don't have to do what the instructor does, we just want you to move and have fun. Anyone can do it."
This style of class makes it very easy for Dunn's students to get as creative as they want with Zumba.
"I always tease my classes sometimes, 'do whatever you want to do, and I might just steal your moves.'"
Students interested in taking Zumba or any of the other free fitness classes offered at OCCC can look at the fitness class schedule posted at www.occc.edu/rf/wellness-classes.html to find a class that works best for their schedule.
For more information about any fitness classes offered her at OCCC, contact the Recreation & Fitness Department at 405-682-7860, or visit www.occc.edu/rf.