WWII vet, OCCC student visits D.C. for tribute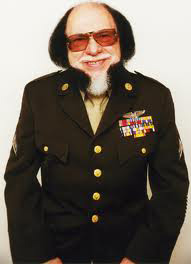 A trip to the nation's capitol as a tribute to the World War II veterans was fun and educational, even if many of the 150 Oklahomans on the excursion constituted a "wheelchair brigade," said OCCC student Mickey Sherman.
At 89, Sherman was one of the younger WWII veterans in attendance — and one of the few who could still walk alone.
For the trip, they were assigned attendants. Bill Teter, a private detective, was placed with Sherman.
On May 4, they all arrived in Washington,D.C., to be greeted with open arms.
"Everywhere we went, people were willing to shake our hands. It felt very good," Sherman said. "I sat for at least an hour and answered people's questions over the war."
Throughout the two-day period, the veterans and their guardians visited points of interest, including the Arlington Cemetery and the Korean and Vietnam War memorials.
The trip ended with an appreciation dinner at which the WWII veterans heard praise for their service.
"Veterans made it possible for our life to flourish," said a guest speaker. "That's the whole idea."
Just as in military service, a mail call was delivered with parcels for each veteran. They contained children's letters and pictures.
"This was a big deal," Sherman said. "That was an interesting way to end it."
Sherman served in the U.S. Army for six years during the war.
"I learned a lot from the service," he said. "I am more patriotic now than when I was enlisted."
While many may know Sherman as a World War II veteran, there are other sides to the OCCC student. A lifetime member of the National Association for the Advancement of Colored People, he was a national jitterbug champion in 1940 and taught tai chi for 12 years.
He has written a book, "A Swinging Affair: From Savoy to Cyberspace" and also produced a DVD, "Mickey Sherman Presents the Popular War."
"The trip was marvelous," Sherman said. While this may have not been his first Honor Flight, he learned things he never knew and was shown love and admiration.
"I am very sympathetic to what they are doing," he said. "When you get to be my age, it is nice to feel appreciated."
The sponsor of the trip, Oklahoma Honor Flights, is a nonprofit organization whose purpose is "solely to honor Oklahoma veterans for all of their sacrifices," Sherman said.