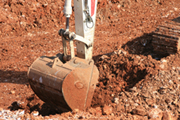 OCCC recently premiered its new Excavation, Trenching and Shoring Safety Awareness Program in order to assist the Facilities Management construction team in understanding new safety procedures.
The program was developed by Lisa Teel, Emergency Planning and Risk Management director, and made effective April 20.
With the construction of the new Visual and Performing Arts Center theater, Teel said she began to look for the safety plan regarding trenches. There were none to be found, she said.
So Teel said she decided to write the Trenching and Excavation Safety Program about procedures that should be adhered to around campus construction sites.
Teel said her experience as Emergency Planning and Risk Management director for the past five years has taught her that preventative measures are important.
"When it comes to trenching, almost 70 people a year are killed in avoidable accidents.
"If we can prepare our employees by making them more knowledgeable and aware of their surroundings, then that is a good thing," Teel said.
Not only does this program protect employees, but there also are regulations in place to protect students, she said.
Teel said there are three types of protection that can be used when dealing with trenches.
Protection options, which include sloping, shoring or shielding, must be designed by a registered professional engineer, she said.
This is good news for math and science degree-seeking students, Teel said.
Not only has OCCC developed safety programs, but the University of Oklahoma, Oklahoma State University and many other colleges also have drawn up plans like these in the last few years, Teel said.
Consequently, more and more schools and companies, realizing the need for safety programs, can create jobs, she said.
For students who are interested in subjects like geology, construction, mathematics and environmental engineering this means there could be a greater demand for these professionals.
In an article entitled, "Top Ten Jobs for the Next Decade and Beyond," WorldWideLearn.com ranks environmental engineering as a top field for future career expansion.
"With the rapid growth of previously small communities across the country, [many entities] must wrestle with the challenges of rising populations while avoiding damaging fines or even prosecution," the website states.
This was exactly what Teel had to face when she was creating the safety program for OCCC, she said.
Teel explained that, as technology grows, so do the opportunities for more dangerous circumstances.
She said she hopes the hazardous aspects of their jobs will be only a small part of the construction workers' lives.
"This job is just a part of their life. I want them to be with their loved ones at the end of the day.
"It is better to be 100 times safe than once dead. I made this plan to ensure that safety is no accident," Teel said.
For more information on the Trenching and Excavation Safety Program or other safety programs offered through the college, contact Emergency Planning and Risk Management at 405-682-1611, ext. 7148.
To contact Kimm Johnson, email onlineeditor@occc.edu.