WOODWARD: Be Fair, Check Sources, Stay Focused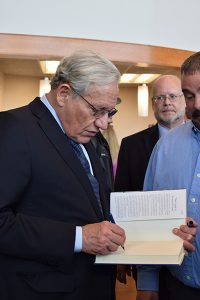 Pulitzer Prize winning reporter Bob Woodward told Oklahoma City Community College students they should be fair, build relationships, check sources, and stay focused.
Woodward spoke last Thursday at OCCC. He talked about his career as a journalist and about his personal experiences. Woodward began his career as a journalist with no experience and failed before he was successful.
When he first asked for a job at Washington Post he was given a two-week trial. Once the trial was over an editor told him he failed. However, Woodward was not devastated.
"I told him thank you. You helped me find the job that I wanted to do," he said.
Woodward went to work at a weekly newspaper in Maryland for about a year.
Behind every story, Woodward said, was a lesson learned. He said he gained knowledge through his dedication and perseverance.
"In any type of media or whatever you are going to do focus and act aggressively," he said.
In 1971 Woodward started working at the Washington Post. One of his first stories was about health code violations at the Mayflower restaurant. Woodward believed the restaurant was part of the exclusive Mayflower Hotel, in Washington, D.C.
Woodward brought the information to his editor. However, his editor was not satisfied and told Woodward to "get your fat ass out of the chair and go down there." Woodward did what he was told and found the coffee shop to be in a different location.
Woodward said the incident taught him going to the scene and getting firsthand experience is important.
"Anything you do in your life if you don't show up, things won't work well for you," he said.
Woodward has written many stories and books throughout his career but is mostly known for covering the Watergate scandal with fellow reporter, Carl Bernstein. Their coverage earned the Washington Post a Pulitzer Prize for public service in 1973.
The Watergate scandal began when several burglars were arrested in the office of the Democratic National Committee, which was located in the Watergate complex of buildings in Washington, D.C. The burglars were connected to President Richard Nixon's reelection campaign, and they had been caught wiretapping phones and stealing documents. Nixon took aggressive steps to cover up the crime afterwards, but later resigned after his role in the conspiracy was revealed. The Watergate scandal led many Americans to question their leaders and think more critically about the presidency.
During Woodward's time working on Watergate he learned journalists have to be looking for a relationship of trust. "You want somebody to trust you enough to give you the truth," Woodward said, "and to have them convinced that you won't misuse the information."
Woodward told students to always be fair in their writing and to make sure they have good sources for information.
"The key ethical issue is always getting the other side," he said.
Once Woodward finished speaking about his career and the lessons he has learned, the discussion became open for questions.
Woodward answered students' questions and responded to their concerns with encouragement.
Even when people distrust the news and individuals in the journalism business, Woodward told students to always persist.
"Don't get on a success track that someone else defines, define it yourself," Woodward said.
Later the same day Woodward spoke again in OCCC Visual and Performing Arts Center Theater at a event open to the public.
In the presentation, "The Age of the American Presidency" Woodward spoke about the presidency of Donald Trump, addressed what is going on behind the scenes, and what to expect.
"It is astounding the power the president has, I think it has grown," Woodward said, "Since Nixon, each president has more and more power."
With all the power the president has Woodward suggested that the president needs to think strategically and look at what they want to accomplish.
"Presidents need to figure out what the next stage of good is, and say here's the plan to get here," he said.
Woodward believes the biggest issue in government and media is secrecy. He said secrecy is root to many problems such as the Watergate scandal, and continues to create problems time and time again.