Women's March on Oklahoma
Hundreds of vibrant pink hats and colorful signs covered the streets in front of the Oklahoma capitol last Saturday, in sharp contrast to the grey sky. Women and men stood together, patiently waiting for the signal to march along the streets in peaceful protest.
The Oklahoma City women's march was one of more than 670 marches scheduled for the weekend, with marches organized on all seven continents.
The march in Oklahoma City was a volunteer run "sister march." Sister Marches are described by Women's March officials as "solidarity events inspired by the Women's March on Washington, and organized by volunteers around the world."
Like many Women's March origin stories, Lindsey Kanaly, who helped organize Oklahoma Women's March, said she started with little experience organizing protests.
"This was completely grassroots. No organization was behind us at the beginning. Once we put the event page up, I had about six women over for dinner and we said, 'okay, how do we do this?'" Kanaly said. "I'm just an attorney in Oklahoma City, I had no idea what I was doing."
Kanaly said almost 12,000 men and women attended the demonstration, making it the largest march in Oklahoma history.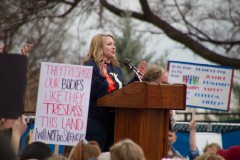 Kanaly said she wanted to bring Oklahomans together on commonly shared issues.
"We developed our policy directive of things we wanted to focus on in Oklahoma, such as women's incarceration rates, getting more women elected to office, domestic violence issues in Oklahoma, and diversity, whether it's public or private sector," she said. "We wanted to focus on those issues along with women's right to health care, and that's where we got a lot of support from."
Kanaly said the group was organized by women on both sides of the political spectrum.
"I am a registered Independent. I can fall on either side of the coin depending on what the policy or issue is. Really what we wanted to do was bring people together that may not agree on every issue, but we can find common ground on certain issues."
Hannah Royce, a marcher in Oklahoma City, said she felt empowered by the march.
"It felt so liberating to be loud about my beliefs, only to see that millions of women around the world feel the same way," Royce said. "It gave me so much hope and excitement to see a flame ignite in so many compassionate souls."  
The march came the day after the inauguration of President Donald Trump.
The official page for the Women's March states, "The past election cycle has insulted, demonized, and threatened many of us – women, immigrants of all statuses, those with diverse religious faiths particularly Muslim, people who identify as LGBTQIA, Native and Indigenous people, Black and Brown people, people with disabilities, the economically impoverished and survivors of sexual assault."
In Washington, D.C., more than 500,000 traveled to the U.S. capitol to join the movement. Sophie Dean, a college student who marched in Washington D.C., said she marched "to ensure women's voices are heard in the midst of Trump's blatantly misogynistic, racist, xenophobic presidential campaign and inauguration."

Dean said the sheer amount of people covering the streets brought her close to tears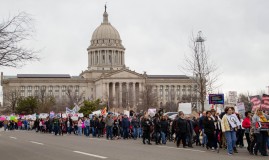 "I felt energized for the first time since the election and ready to stand up and show up for my women, especially those who have different burdens than me," she said. "I fear that Trump will erode and divide us over time. I hope that, as a white woman, I may use my privilege to protect and amplify marginalized voices in the coming years and always." Kanaly said the momentum of the Women's March on Oklahoma didn't stop at the end of Saturday.
"We were planning before the march happened what our next step would be. We're creating an action network of sorts, where we put people in contact with organizations that suit whatever it is they want to volunteer for or get involved in. We want to work hand in hand with organizations that have been around for decades," Kanaly said.
"We set up our facebook business page after the march on Saturday, it's called 'March On Oklahoma.' We'll be sending out emails to attendees and those who have signed up, and we'll be sending follow-up emails this week."