Wizard World: 30 Years of Nerd Fandom
Last weekend, Darth Maul had a lightsaber duel with Darth Vadar over whether Picard or Kirk was the better captain. The debate is still unsettled.
Jerry Miliani, the Public Relations Manager for Wizard World, said "The Wizard World brand goes back almost 30 years to Wizard Magazine."
Miliani explained how Wizard Magazine was developed to cover the comic and pop-culture industry. The magazine ran for 20 years. During that time, Wizard expanded its brand to the 1998 Comic-Con in Chicago, Illinois and has grown to 16 and 20 events a year, attracting attendees from all over the country to celebrate and keep alive what the Wizard Magazine started.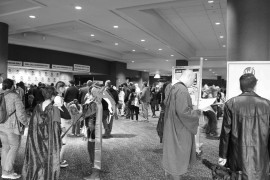 Following the successes of the three previous conventions in Tulsa, the Oklahoma City convention managed to appeal to a wide range of attendees.
The shows at the kids stage ranged from puppet shows teaching kids about the effect of cyber-bullying, appreciating what makes everyone unique, loving themselves, and cosplayers, fans dressing and acting like their favorite fictional character, teaching the youngest convention goers how to do the "Time Warp," the famous song and dance from "The Rocky Horror Picture Show."
For the collector looking for that rare comic, or someone looking for an original piece of art from an independent artist.
Ryan Dawson is an artist that travels around the country selling his art at conventions like Comic-Con.
Dawson has been an artist for 28 years, and started a profession out of it 7 seven years ago when he set up shop at a convention to raise money for the victims of the Moore tornado.
Dawson said, "I was selling my artwork at the show and sold out of everything, so I continued selling for a while to raise money for the victims and Make A Wish Foundation when I realized it something I could do for a living."
The convention also brought in 80s sci-fi and pop culture fans with guests like Sam Jones, who played Flash Gordon, and actors Brian O'Halloran and Jason Mewes from the cult classic "Clerks."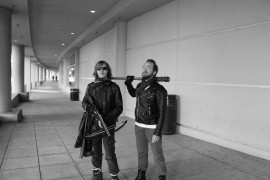 O'Halloran said, "I always enjoy doing Comic-Con, I'm a big fan of other guest and the vendors that are here."
O'Halloran normally attends the conventions between other projects he's working on, "I have a film making the circuit around the film festival now called Bad Frank with Tom Sizemore, a very violent mob movie, and Shooting Clerk's which is bio-pic about Kevin Smith and how we grew up and how we decided to make the original Clerks."
O'Halloran also mentioned a new project he is starting soon called "Right Before Your Eye's." It tells the story of a young man that loses his son and wife because of his struggle with alcohol. He also said he hopes to start shooting the new "Jay and Silent Bob" movie by the end of the year.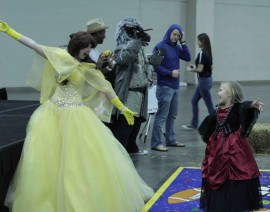 Miliani said, "the dates that we had occupied in Tulsa last year are now Oklahoma City and we are going to see how it goes… we will be back next year."
Miliani started working for Wizard eight years ago. When asked what he loved about his job, he said, "meeting fans, meeting people, watching people connect who enjoy the same thing and would have never met each other or never had known there are a 1,000 other people that love the same things they love."