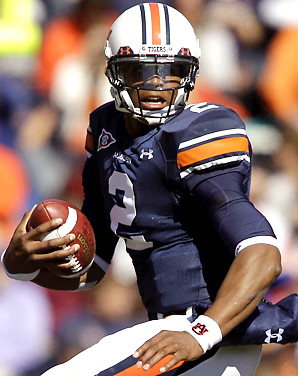 Many college football fans out there are familiar with the Cam Newton situation, and are curious how long he will hold on to his Heisman trophy.
For those of you that do not follow college football, Cam Newton is the quarterback for the Auburn Tigers. Newton recently transferred to Auburn from Blinn Junior College, where he won a national championship before leaving.
Before Newton signed with Auburn, his dad allegedly told Mississippi State University that if they wanted his son to play at their University, they would need to pay $180,000. The NCAA has done countless investigations and it is unclear if Auburn was offered the same deal.
The NCAA has interviewed Newton privately, and when asked publicly he refuses to comment on the situation.
On Monday, Auburn won the National Championship over Oregon, and the fact that Newton played could jeopardize the Auburn program if he did indeed receive money to attend the school.
The entire controversy surrounds Cam's father Cecil, because allegedly he was the one soliciting his son to major universities for money. When Cam received his Heisman on Dec. 11 his father was not present; reporters mentioned that Cecil was absent due to the fact of the unwanted negative attention it may cause.
If Cam is innocent and committed no wrong, then what is the big deal? Shouldn't a father be present and cheer on his son when he wins the most prestigious award in college football?
During the National Championship game, announcers said that Cecil would not be in attendance at the game, and that he was watching it on television.
If there was no harm committed then why must Cecil be absent at these major events? With Cecil going out of his way to avoid the media, it makes the Newton family look guilty of all they have been accused of.
If Newton is found guilty in the future, he will lose his Heisman, Auburn will need to vacate its National Championship win over Oregon, as well as all the wins that Newton played in. The University will be put on probation, and Auburn will lose scholarships each year of the probationary period.