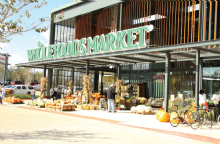 Casey R. Akard/Pioneer
Whole Foods Supermarket located at 6001 N. Western brings consumers smart healthy choices at a reasonable price. These options include organic produce, gourmet food options, fresh seafood and meats and locally made cheeses.
After what most would consider a much-anticipated arrival of the Whole Foods grocery store chain to Oklahoma City, it has finally opened its doors to the public. And it is safe to say that lives up to the hype.
Located across the street from the huge Chesapeake Empire at 6001 N. Western, Whole Foods is just one mile north of I-44, an accessible option for customers traveling from other parts of the city.
Whole Foods, originally based in Austin, Texas , is known for healthy natural and organic foods including produce, gourmet food options, fresh seafood and meats and locally produced cheeses.
Not only does Whole Foods tailor to the health-conscious individual, it also promotes local economy and local farmers.
The first thing you notice before walking into the store is the colorful array of seasonal products, such as pumpkins and organic squash set up as a mini-outdoor market.
Each item looked as if it had been strategically placed and polished in its setting. The outside of the store certainly foreshadowed what the rest of the store would be like.
Let's just say that if Willy Wonka's factory consisted of healthy foods, this would be it. The first aisle has a bulk item section of 220 products of seeds, beans, grains, and nuts.
Interested in creating your own nut butter? Whole Foods offers six stations to grind nuts into your own mouth-watering butter.
An entire section is dedicated to selling Oklahoma-raised grass-fed beef, an aspect that should lure the seller of such items and the buyer as well.
For those consumers trying to stretch a buck in today's economy, the store offers its own Whole Foods' store brand 365, a brand that takes organic canned goods, frozen veggies, and vitamins to a conventional level of affordability.
On the east side of the store is a bakery, sandwich bar, sushi bar, pizzeria, and much more.
Unsure whether to purchase that little slice of heaven, such as the garlic pesto pizza on hand-made dough? Whole Foods provides samples of every food they make fresh in their deli and bakery.
The cleanliness and order of the store apparently were top priority to the management and staff. But that wasn't what left the strongest impression on me. Their congeniality won me over.
Never in my life have I been to a place of business where customer service was above and beyond. Every single employee that made eye contact with me greeted me with a smile, a "hello", or "are you finding everything okay?"
Sometimes it was a combination of all three. This aspect alone encourages me to refer people there.
Though some patrons may be inclined to dispute some of the grocery item prices, you certainly pay for what you get. I would say Whole Foods is a step in the right direction.
Rating: A
To contact Casey R. Akard, email onlinewriter@occc.edu