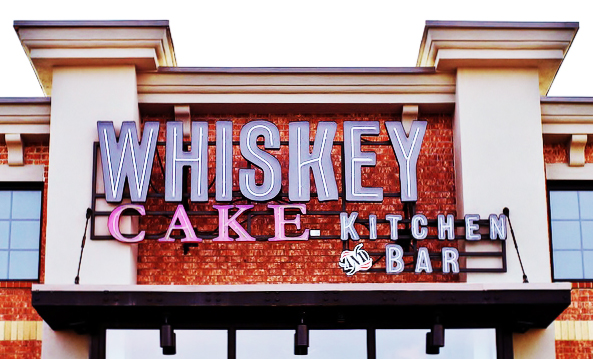 When my family comes to visit, two things are guaranteed to happen — we'll eat well and drink plenty.
That said, I thought taking my family to a hip Oklahoma City restaurant would be a good idea when they visited during Labor Day weekend.
It wasn't.
While Whiskey Cake Kitchen & Bar warranted first place in the Oklahoma Gazette's "Best of OKC" contest as the best national or regional chain restaurant, it earned an F as far as my family's eating experience was concerned.
Having lived in Norman two years, I'm used to hipsters with handlebar mustaches and girls who add Easter egg dye to their hair products.
However, as native southern New Mexicans, my family members were awestruck and offended at the atmosphere and menu options offered at Whiskey Cake.
Whiskey Cake, which is located at 1845 NW Expressway in Oklahoma City, just outside of Penn Square Mall, is a self-asserted scratch kitchen that prides itself on its farm-fresh entrees and fancy cocktails.
Upon entering the restaurant, one might think they've entered someone's inner-city loft — but, it's just a terribly decorated restaurant.
The only accurate comparison I can think of consists of a crafty housewife's Pinterest account vomiting do-it-yourself projects all over Whiskey Cake's walls.
For whatever reason, there are antique couches and coffee tables inconveniently placed throughout the dining area, providing ample tripping opportunities for children and elderly folks making their way to the bathroom.
Other quirky decor items include upside down empty light bulbs holding kale plants and tacky plastic chickens perched upon distressed wooden dressers.
Whiskey Cake's food options were anything but traditional and featured entrees such as lamb, duck and brisket burgers — prompting my father to beg the question, "Where the hell are the steaks?"
And while I don't discredit the entire waitstaff at Whiskey Cake, I will say that our waiter in particular made the experience especially terrible.
He spoke softly, licked his lips at inappropriate times and kept describing food and drink items we never asked about — not to mention his ridiculous uniform featuring old man suspenders and discarded plastic 3D glasses.
While Whiskey Cake might be an ideal venue for city slickers seeking an opportunity to look cool on social media sites, it's definitely not a place to take your family when they're hungry for something familiar.
Whiskey Cake might have the potential for an A, but my experience left me wanting no more.
Rating: F