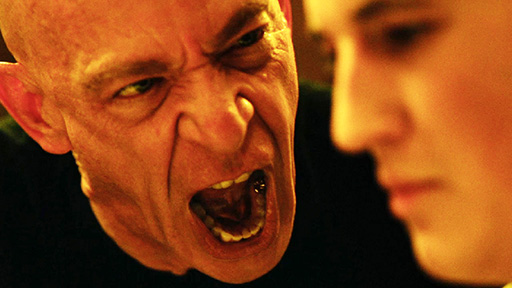 Last October I missed my chance to see "Whiplash" in theaters. But lo and behold, the film was nominated for the 2015 Best Picture Oscar meaning it would return to select theaters this month. And, of course, I saw the film the day it was re-released.
Andrew Neiman (Miles Tellar) is a talented 19-year-old jazz drummer aspiring to become as great as Buddy Rich. A first-year student of the best music conservatory in the country, Neiman is determined to impress the school's most formidable band conductor, Terence Fletcher (J.K Simmons).
Nieman is eventually hand-picked by Fletcher to join his band's core group of musicians as an alternate.
It's at this point Neiman witnesses Fletcher's brutal and amusing coaching methods. And it's only amusing because you can't believe how far he goes to make his students feel worthless.
To Fletcher, his methods are used to draw out his student's best potential. Fletcher says, " … There are no two words in the English language more harmful than 'good job.'"
To earn a spot as the band's core drummer, Neiman must endure Fletcher's behavior and live up to the conductor's standards. But the more Neiman is pushed, the more he loses his sanity.
"Whiplash" is more a psychological thriller than musical drama.
And the acting is just a too-good-to-be-true five-star quality spectacle. Simmon's viciously high standards and Tellar's determination to succeed are an overwhelming combination.
Written and directed by Damien Chazelle, this story is loosely based on his experiences as a jazz drummer in high school.
I won't go too much into the backstory of how "Whiplash" was made but essentially nobody wanted to help make it and now, the film has Oscar nominations for Best Adapted Screenplay and Best Picture.
And it was shot within 20 days.
Basically, go see "Whiplash" if you enjoy impressive stories with outstanding performances and a finale so powerful it could only exist in a movie.
Rating: A+
To contact Ethan Cooper, email pioneerphotog@occc.edu