Summary:
Come out of the hole Ryan!
As you may have heard, some pop star had a really good idea. One album already sold 8.6 million copies worldwide, so yeah, why not make it again?
Enter Ryan Adams.
Adams released an album in September that covers the entire hit 2014 Taylor Swift "1989" album and since, I've been intrigued by this pop culture "Wife Swap" experiment.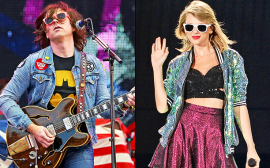 Overall impression: Adams seems to have listened to a lot of Bruce Springsteen while producing this album.
Adams' album kicks off with a power pop rock ballad version of Swift's song "Welcome to New York," which is actually a lot better than the original.
Next up is Swift's hit "Blank Space." Swift's version definitely takes the cake on the over-produced catchy pop hit.
I can picture Adams' breathy version being sung by a drunken boy at a bar whose recent breakup is hitting him particularly hard.
Adams' version of "Style" is like being lost in a hole of reverb, where you can't find either the song or the melody. "Come out of the hole, Ryan!" I yell to him. Swift's version is better, though not my favorite Swift song.
The pace of the album should pick up with "Shake it Off," I think. Swift's version is so hard not to dance to.
I was curious what Adams would do with such an upbeat, fun song.
Adams' "Shake it Off" is a total flop. The song demands energy and Adams seems to have forgotten the caffeine. I want to shake off this version and never go back.
Adams gets an easier one in "I Wish You Would." The Swift soft acoustic song fits Adams' style perfectly. His version builds more than Swift's version and again, I think of Springsteen.
"Bad Blood" is one of my favorite Swift songs, and is her perfect sassy, girly, and full-of-attitude song. Adams' version isn't surprising to me by this point in the album.
It's depressing and sad, and I've had enough with this album.
I want to leave the pop songs to my girl, T-Swift. Maybe Adams should focus on making his own chart-topping album instead of covering others.