What'chu Talkin' 'Bout, Willis?: NBA season excitement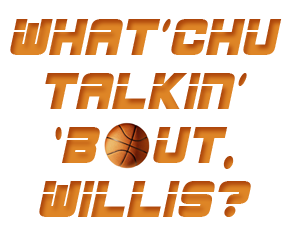 10 reasons why you should be excited for the upcoming NBA season.
1. Super Teams
Rather its big markets like LA, Miami and New York or small markets like Oklahoma City and Brooklyn. The NBA is set up for these teams to wage war at the highest level. Some people say they don't like the way players are teaming up to play together. You may not like the process but you will certainly like the result. The NBA is getting back to the 80's where you needed more than one or two really talented players to win a championship. The competition level will be up and so will TV ratings.
2. The Return
Last year was a year of game-changing injuries with D.Rose going out with an ACL and Dwight Howard being out with back problems. Some injuries were not as bad but lingered and affected play such as Chris Paul's hand injury and Blake Griffin's overanalyzed knee. The inspiring story of Brandon Roy returning to the floor for the Timberwolves is great for the NBA.
3. Welcomed Youth
The NBA is doing just fine as far as star power but it never hurts to bring along a nice class of young guns. Kyrie Irving will be an All-Star this year guaranteed. The Warriors are littered with talent and the Hornets have one of the most interesting prospects since Kevin Durant. DeMarcus Cousins aka "Boogie" is maturing and has quickly become a top 3 center in the league. It's crazy but D.Rose, Griffin and Kevin Durant are looking like "old heads" nowadays at age 24 and 25.
4. LeBron's Legacy
LeBron has eliminated that huge gorilla that was on his back by winning a ring but now he must maneuver himself into the top ten players of all-time, which is mainly based off of number of rings and transcendents. LeBron is definitely transcending the game but now he must rack up championships. LeBron must win four to be considered for the top five of all-time.
5. LeBron vs. KD Rivalry
The best and legitimate rivalry we have seen since Magic and Bird. Michael Jordan never had a rival even close to him, which sort of made the NBA easy to pass over because you knew at the end of the day MJ would come out on top. The great thing about this new rivalry is that both players are playing at a high level and are so different. Off the court, Lebron is more flamboyant and more of a social butterfly. Kevin likes to keep things as normal as possible and is private in many instances of his life. On the court, Lebron is a brute force that the league has never seen. He can do everything skill-wise and may be the best passer since Magic Johnson. Kevin is a smooth assassin whose range has no bounds. Kevin is quickly getting better at being a playmaker and he always shows up on the big stage as did Larry Bird.
The NBA must be greatly appreciative of this new age rivalry because it is creating an excitement around the league that hasn't been seen in 20 years.
Disclaimer: The opinions and views expressed in this blog are the opinions of Brandon Willis and do not reflect the opinions or views of any other Pioneer employees.
To contact Brandon Willis, email sportswriter@occc.edu.